For Cary Williams, there are fond memories of his most recent trip to Sports Authority Field at Mile High. As a member of the Baltimore Ravens, Williams and the rest of his team marched into Denver on a frigid 13-degree day and knocked the favored Broncos out of the 2012 playoffs with a 38-35 double overtime win in the AFC divisional round. As Williams now prepares for his first matchup against Peyton Manning and company as a member of the Eagles, he is relying partially on previous experience.
"He's great," Williams said of Manning after Tuesday's practice. "He's going to go down as one of the top quarterbacks of all time and maybe the greatest of our generation – he and Tom Brady are going at it … He's done it for so many years and all you can do is rely on technique, finish, play through the whistle and give your best effort every time.
"He's a polished guy. He's a proven quarterback and he knows the intricate ins and outs of defense and he studies. This is his life and this is what he wants to do well and he's done it well on a consistent basis. You see those consistencies, you see that polish and you see him being able to make all of those reads and calls. Only thing you can try to do is make sure that your technique is great and that you can execute what (defensive coordinator Billy Davis) asks you to do. He's going to make his throws. That's a part of the game. You just have to allow the game to come to you and you can't get upset about it."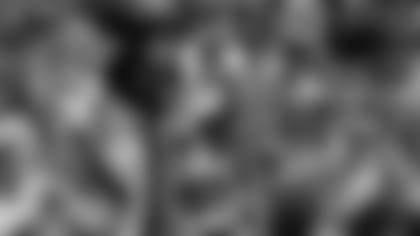 In the Broncos' playoff loss to the Ravens last season, Manning was not at his best. The Ravens limited Manning to 290 passing yards, intercepted two of his passes and forced a fumble, as the Broncos offense produced just 21 of the team's 35 points. Williams recorded six tackles and one pass defensed during the game. Recalling the victory, the cornerback said that the Ravens tried to keep Manning guessing.  
"We tried to show him different things and give him different looks," Williams explained. "We tried to not give him an easy reads with a lot of things. He's going to come up there and do his show, and he's going to try to get you to show what you're doing. The thing is that you have to try to stay as calm as possible during those situations and don't give him anything.
"He can look at your stance. He can look at your eyes and tell if you're coming. He's been around the game for so long and it's tough to really figure this guy out…It's those little things like that that Peyton has mastered. It's going to be a challenge, but at the end of the day, this is what we play the game for."
According to Williams, the Eagles defense, with all of its new faces, is still a work in progress. The fifth-year pro views Sunday's game as another opportunity for the unit to grow, especially against the league's top-ranked offense.  
"I think it's another opportunity for us to get better and for us to work on some things," said Williams. "We're still trying to jell and we're still trying to work through things. It's not just going to come together (right away), and I'm sorry that you guys think that's going to happen, but it's just reality that we're still trying to work through things. We're still trying to get to know each other. Coaches are still trying to figure out what guys do well. This is a great test against a great quarterback and we look forward to it.
"If you want to be the best, you have to play the best and you have to beat them. We were able to do that last year, and hopefully we can duplicate that here. I just want to continue to play the game as best I can and prepare as best I can. I know it's going to be a great matchup. It's going to be tough at times. You're going to face adverse moments but as a player and a competitor, I look forward to it. It's an opportunity of a lifetime."
The 2012 Ravens defense was considered by many to be one of the toughest units in the NFL (though they finished the season ranked 17th in yards allowed and 12th in points allowed). In the playoffs, a unit filled with talented players rose to the occasion. Williams believes that defense's ultimate success was a result of an attitude and trust for which the 2013 Eagles are still searching.  
"When we went out there, we played together and we played as a family, and here we are developing that," Williams said.  "We're trying to get that built here… We're trying to build that relationship. It's a challenge for us each and every week to try to get better and understand our scheme and our roles, but that's the great thing about football. We get to go out there and play and perform and do what we love. Like I said, it's an opportunity of a lifetime. We just want to go out there and perform our best and bring one home for the Eagles."