The Eagles continue to support nonprofits that work to reduce barriers to opportunity and end racism. In support of Black History Month, the Eagles are proud to recognize the work of one of these nonprofits each day.
It started in 2000 with a vision.
Michelle Simmons, a Germantown native, returned to the area after a six-year prison sentence in the California corrections system. Abused by her drug-dealing father growing up, Simmons traveled down a similar path.
She was now clean and wanted to get her life on track. She lost custody of her two daughters and needed to get herself right for them.
"OK God, I'm clean now. I'm out of jail," she said in a prayer. "What are you going to do with me?"
That led to Why Not Prosper, a nonprofit with a mission "to help women from prison systems discover their own strength by providing them with the support and resources that will empower them to become responsible, economically self-sufficient, and contributing members of the community.​"This is accomplished through several services ranging from a housing program to workforce development to mentoring to healthcare advocacy and medical care.
"I teach them that we have to take ownership now. We're not victims no more. We went through that. We made it through the past. Let's move on through our power," said Simmons, who in her early 50s is a fiery ball of energy that would make a toddler look worn out. "I could walk with them. I'm on common ground with them. I'm also stretching them and pulling them up out of the hole with some skills and some tools and some principles, so that they can stand on their own feet because I was down in the hole with them and I know what that hole look like."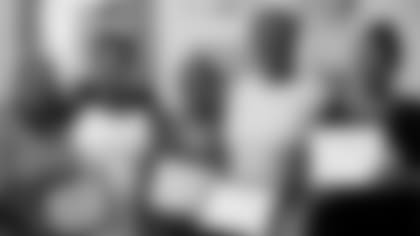 Why Not Prosper initially provided treatment and therapy, but several of the women returned to prison over the course of the nonprofit's first decade. Simmons had to dig deep to treat the root causes that led to recidivism. Quite simply, the women were knocked down by society time after time again. They eventually surrendered in defeat. These women lost their kids and couldn't get them back because they didn't have the financial means to raise them. But they couldn't get a job because of their criminal record. They couldn't get proper health care in an adequate amount of time to help with their addictions.
Why Not Prosper used grant money from the Eagles Social Justice Fund to expedite the speed and increase the quality of health care for these women.
Simmons continued to work on herself while providing a beacon of hope for others. In 2008, Simmons graduated from Chestnut Hill College with a bachelor's degree in Human Services and earned a master's degree in Counseling Psychology two years later. She is also a Certified Allied Addictions Practitioner and a Certified Domestic Violence Counselor. In addition, she received her Doctorate in Ministry from Friends International Christian Academy.
More importantly, she has remained clean since leaving jail and won back custody of her children on March 15, 2003, a new birthday of sorts. She was also granted a full pardon by the State of California.
Simmons' goal now is to build up the next generation of women to carry on her legacy. Within Why Not Prosper, Simmons started SWAG – Sisters With a Goal – a group of formerly incarcerated women who got their lives in order to help others do the same. Simmons credited a strong support system around her when she got out of jail for making the successful transition back into society. SWAG aims to provide that same support system. Recently, SWAG helped women in the program understand their voting rights and registered them to participate in the 2020 election.
As Simmons puts it, Why Not Prosper provides a hand up, not a handout.
"They trust me. That's the biggest thing, you know," Simmons said. "As long as they can trust you, and you for real, it makes all the difference. I can relate to you. Let me help you with some tools and some skills that will get you to the other side, which is accountability, responsibility."
Learn more about Why Not Prosper: