DeSean Jackson's newfound versatility is bad news for defensive coordinators around the NFL. Defenses could barely contain the explosive Jackson when they had a good idea of where he was going. Now, it looks like that job has become even more difficult.
In the past, Jackson focused solely on the Z wide receiver position, where he was responsible for knowing only his responsibilities on each play. As head coach Chip Kelly has installed a brand new offense in Philadelphia, he tasked Jackson and the rest of the wide receivers with learning multiple positions across the offense. At first, Jackson admits that he struggled with that transition. But as the team's offseason activities near a close, the Pro Bowler believes he's on tap to surprise the league.
"I think it's night and day since I first came into this offense, since (Kelly) first came in and installed what he installed," Jackson said Tuesday. "I think the full offense has been put in so far so, you know, it gets tricky here and there because they still throw new things in there but pretty much the whole offense is down and everybody is out there learning and, at the same, putting in the hard work to be able to know every position in the offense. Like myself, I never really had to learn every route or every play that every person on the offense has to do ... now I'm learning slot receiver, running back positions, X and the Z. So it's a good thing for me.
"At first, it wasn't pretty easy to learn but now I've got a good grasp on it ... It's almost like taking steps, one step at a time. Now that we're about two months into it, I think I've got a good step of it and going into Training Camp, myself and everybody else will pretty much know the whole offense."
But how exactly does that increased knowledge change what Jackson can do on the field?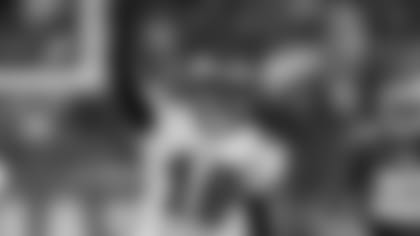 "Coming to the line of scrimmage, having the defense not knowing where you're going to be -- in the NFL a lot of teams do a good job of scouting film and things like that," Jackson said, "this year we'll be able to not really have people know what we're going to do. That's the big thing about it.
"It helps out tremendously, honestly, because throughout the offense you're not learning one play or one position, you actually know the whole concept of the whole offense and you know the idea of the plays. You know, when the defense comes out in whatever defense they're coming out in, we're able to break it down and see what plays are going to be open, see who's going to get the ball and things like that. It's an ongoing process but I think right now it's at a good place."
As first reported by Tim McManus, Jackson met with Kelly early on in the offseason to talk about the wide receiver's role on the team.
"There was never really a misunderstanding, it was more just wanting to see what he expected out of myself and expected out of us as teammates and things like that," Jackson said. "So I had a talk with him and (we're) are on the same page and things like that. Any time you have a new coach, you just kind of want to get on the same page as him ... For people saying I wasn't buying into the system or whatever the case may be, I never really believed in that and I never really thought that was true. Like I said, I have a great relationship with my team and Chip and things like that. It's an ongoing process of building a relationship and building trust and things like that. Right now, I think it's at a good place."
While Jackson has had to spend more time in the playbook this offseason as a result of his increased responsibilities, he's also spent more time at the NovaCare Complex than in the past. Following his rookie season, Jackson was never a full-time participant in the voluntary offseason workouts. This year, he's been a mainstay.
"We have to come together as a team, have to be accountable to one another and I think Chip's doing a good job of making everybody accountable and not only that, coming here and putting in the work, this system is a very up-tempo speed and things like that, so if you're not here it's going to be hard to kind of be in shape for that type of offense," Jackson said. "I think the work we're putting in now is traditionally a good thing. For myself, I never really made it throughout the whole offseason workouts. This year, having Chip come here, I've been here throughout the majority of the workouts and have been putting in the work with my teammates and things like that, so it's a good thing right now."
Finally, Jackson was asked about a recent report that he's in the process of switching agents.
"Right now I'm just focusing on football, honestly," said Jackson. "I haven't made a decision on where I'm going or what I'm going to do yet. That's not really important to myself right now. The most important thing is this season, my teammates and this team. Winning games and putting in the work to do the things we need to do to go into the season and have a head start on everybody else."