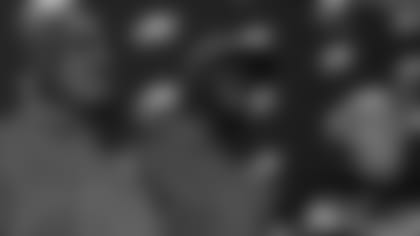 When wide receiver Nelson Agholor, the Eagles' first-round pick in the 2015 NFL Draft, arrived last Friday for his meet-and-greet with the fans, media and coaches, the team presented him with a No. 1 jersey at his introductory press conference. Agholor posed in front of the NovaCare Complex auditorium holding the jersey with head coach Chip Kelly and Troy Robinson.
You might be asking who Robinson is. He's the beloved long-time janitor at the NovaCare Complex. As Zach Berman from the Philadelphia Inquirer explained in his story on Agholor, Kelly asked Robinson to be a part of the celebration as a gesture of respect toward Agholor's father, Felix, who is a janitor at the University of South Florida.
"I think I understand the way life works," said Agholor, who emigrated to the United States from Nigeria with his family at the age of 5. "I don't feel like I'm entitled to anything. ... Work like a peasant. That's the mindset."
Agholor and the rest of the 2015 Eagles rookies will be in Philadelphia this weekend for the Rookie Camp. We will have live coverage on Friday featuring press conferences for each of the six draft picks and more beginning at 3:40 PM.
!