Ron Johnson had a solid gridiron résumé in 1985.
Drafted by Seattle four years earlier, the Long Beach State wide receiver was released during Training Camp and set his sights north of the border and on the CFL. Playing with Hamilton for three seasons, Johnson caught 140 passes for 2,100 yards and 13 touchdowns.
Moving on to the USFL for the 1985 spring season, he was a member of the Portland Breakers for six games, catching 22 passes for 476 yards and two touchdowns.
But the reference that could lead him to Philadelphia was at the bottom of his résumé.
"I wanted to play in the NFL, that was a dream," Johnson says. "I had a good experience with the Portland Breakers. Dick Coury was the head coach and was on the staff at the Eagles earlier in his career, and knew a lot of the people on the staff there.
"So after my contract ended, he asked, 'Where do you want to go in the NFL?' And I think I did mention the Eagles. He said, 'We know people over there,' and put in a good word for me."
With his experience, Johnson's second shot at the NFL went better than the first. He played well on the field and paid attention to it.
"At that time, the NFC East was the toughest division in football," Johnson says. "And the thing that I remember most is at the beginning of Training Camp, (Offensive Coordinator) Ted Marchibroda showed this film of the receivers having trouble getting off the line of scrimmage.
"He basically just told all the receivers in the room, 'If you can get off the line of scrimmage, we can use you.' And that was something that I had the ability to do. So in that way, I was encouraged that I could help the team."
The Eagles had a new coaching staff the following season. Buddy Ryan, who had just helped Chicago win Super Bowl XX as its defensive coordinator, became Philadelphia's head coach and brought a fresh attitude along with some pink slips.
"When Buddy came in, I was unsure about what that meant for our team. But he said a lot of things that were extremely optimistic," Johnson laughed. "He said we could go 8-0 in our division, which if you go 5-3 in the NFC East, you've got a successful year. That was more realistic.
"And then he let go of a lot of guys, a lot of veterans. So that was a little bit stunning. He was building his own defense and kind of let the offensive coordinator we had, Ted Plumb, handle the offense. But I just knew that mediocrity would not be acceptable."
In 1988, Johnson was the veteran who was let go. Released in the final cutdown, he was re-signed after five games when Mike Quick was sidelined with a broken leg. He would play in 10 games, with four starts, and help the Eagles make the playoffs with 19 catches for a career-high 417 yards and two touchdowns.
"Statistically, I didn't catch 60 balls or anything, but that was my most satisfying year," Johnson says. "I did get cut right before the regular season and got brought back, and Mike always reminds me of that, 'Man, Johnson, you're such a good friend to me, I broke my leg so you could come back on the team.'
"I made some pretty decent plays that got us some wins, but my most satisfying thing was at the end of the season, in the press conference with Buddy and all the reporters. They asked him what his biggest mistake was of the season. And he said it was cutting me. He said he never should have let me go, and that I came in and kind of proved him wrong. You know, Buddy Ryan just doesn't say things like that. So it always meant a lot to me."
What did that say about Johnson showing that, once again, he wouldn't give up?
"I've always been a team player and always felt like I wanted to not just be on the team, but to be a big part of the success," he says. "My family was like that. We didn't have people that just threw the towel in. So I have to give that credit to my mother and my father, my grandfather, my grandmother. They were just great role models for me. They didn't quit because they couldn't. They didn't have that luxury of quitting."
With the Eagles for five seasons, Johnson's fondest memories of that time occurred off the field.
"(Former Eagles running back) Herb Lusk did the Bible studies for the team, and passed away recently. And so I would say the support and the work that he did with the Eagles during the holidays, the Thanksgiving food distribution that we did, was really satisfying," Johnson says. "Just seeing the scale of the people that we touched, people that needed some support. Just to see, pretty much everyone on the team pitch in with financial donations to get all the food and all the supplies that people needed.
"And not only did they write a check, but then Reggie White and Randall Cunningham and Mike Quick and Anthony Toney, Matt Darwin, those guys went to the church and were a part of the service before all the food was distributed. So it wasn't anything that happened on the field, it was just us being able to use our name to raise money and give support to some people who needed it."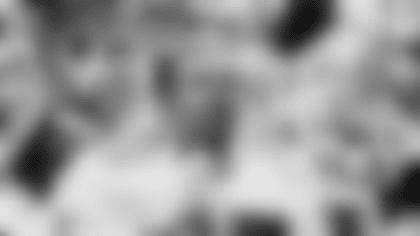 As the President and CEO of the Boys & Girls Clubs of Monterey County (CA), Johnson has continued to support people since he joined the organization in 1994.
"I always have had an interest and a passion for working with young kids," Johnson says. "I was going into a career as a stockbroker, and although it was a pretty well-paying job, it just wasn't completely satisfying for me. I really wanted to be a part of a job where I could give back to my community and where skill sets matched up, The Boys & Girls Clubs ended up being a really good fit in that way.
"It's a place where kids, they're still trying to figure out what their talents are and what their passions are, kind of what they want to be as adults. And so the clubs are kind of like a training ground for young people. The clubs are super important for kids to develop some good habits and discipline. And then to realize that they're not in it alone."
Johnson, who co-hosts an annual football camp with his Eagles teammate Anthony Toney, continues. "Our staff is really good about building that culture and making sure that everyone's treated with respect and dignity. It's important within the Boys & Girls Clubs, and it's important wherever they're going to go. They're going to have social skills. And then the kids that don't have enough food at home, every night the clubs makes sure that we're serving something that's going to hold them over from day to day."
Making their home in Monterey, Johnson and his wife, Lynn, have two sons: Wesley and Evan.
"Wesley is at Arizona State. He got his bachelor's and now he's working on his master's in sports journalism. And he's actually on the football staff as support," Johnson says. "And then Evan is a freshman at BYU. He was a receiver in high school, but they converted him to defensive back. So he's still learning that position. We're empty nesters, but I couldn't be prouder of them."