The Eagles relied on a deal from their past to try and improve on their future during the 2001 NFL Draft. Using a third-round pick obtained from the Chargers in 2000, Philadelphia chose Mississippi defensive end Derrick Burgess.
Posting an 11-5 record that season, the Eagles won the NFC East for the first time since 1988. Burgess, however, felt that he and his teammates played in many more than 16 games, and that it led to their success.
"All of the practices were like games. So every day you came to practice, it was like a game mentality," Burgess says. "You had guys like Troy (Vincent), Bobby (Taylor), Dawk (Brian Dawkins), (Jeremiah) Trotter, Hugh (Douglas), you had a slew of guys that once you got out there as a young fella, you had to step up and play your part. You couldn't be out there just going through the motions. They showed me how it was supposed to go. Practice was supposed to be a real thing."
As a rookie, Burgess made four starts and collected six sacks. He appreciated being shown the ropes by a couple of veterans from the other side of the line of scrimmage.
"Tra Thomas and Jon Runyan, those two fellas raised me," Burgess says. "Tra and Jon raised me because I had to see them every day. I had to practice against them every day. And there were no light days dealing with them."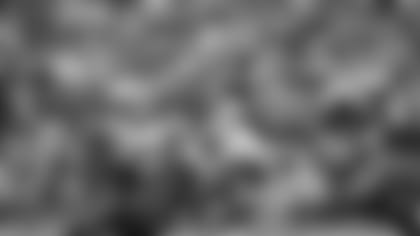 Burgess had to deal with a physical setback in 2002. Playing their season opener in Tennessee, the Eagles lost the game as well as Burgess after he broke his foot, which sidelined him for the year.
The second part of the one-two punch hit Burgess during the following preseason when he tore an Achilles tendon and spent a second consecutive year on Injured Reserve. How did he stay positive while unable to play?
"Basically, my big bro, (veteran defensive end) N.D. Kalu. He kept me positive because we were cool on and off the field. He kept me motivated and made sure I was OK. And also, (Head Coach) Andy Reid made it right. He was like, 'Hey, we're going to ride with you, big fella. So just get healthy. Once you get that behind you, it will be like all I've got to do is do my part,'" Burgess says.
"He's probably one of the best player's coaches you can have. He's a people person. Regardless of what you were going through, you would think as a coach that he probably wouldn't understand. You'd think, 'Ah, he doesn't want to hear this.' But he would actually take the time out and listen. You don't find that often.
"(The two years I was unable to play) taught me everything about the game of football. Because once you're injured, you're replaceable. To the point where it's like a next man up-type thing. You've got to understand. It shows you that it ain't just you. We're trying to win. So, listen, you get hurt, it's next man up. You've got to deal with it. If you can make your way back, cool. But if not, it's the nature of the beast."
Able to step back on the field in 2004, Burgess played in 12 games, helping the Eagles compile an 11-1 record before he separated his sternum. That led him to sit out the final four games of the regular season. But not the playoffs.
And after registering two and a half sacks during the season, Burgess added two more sacks to go along with the team-high six tackles in the NFC Championship Game victory over Atlanta.
He was also the only Eagle credited with a sack in Super Bowl XXXIX. But making its first appearance in the league championship game in 24 years, Philadelphia came up short to New England, 24-21.
"The whole experience, you don't know if you're ever going to reach that pinnacle again," Burgess says. "And it was like one and done for me. You don't know if you're ever going to do this again, so just go all the way. Let it all hang out."
A free agent in 2005, Burgess signed with the Raiders and led the NFL with 16 sacks, earning the first of two consecutive trips to the Pro Bowl. And after four years in Oakland and one with New England, Burgess was out of football after being released by the Patriots at the end of Training Camp in 2010. He planned to retire. That, however, was until he received a phone call from a familiar area code.
"Andy Reid called me. Big Red, he's got a special place in my heart just because of the things we went through," says Burgess, who was contacted late in the season after rookie defensive end Brandon Graham tore an ACL. "The (defensive coordinator) Jim Johnson era and all that, I grew up through that system. So for him to call me, it was like, 'I'll move around for you.'"
Collecting 52 career sacks during his 10 years in the NFL, five with the Eagles, Burgess is proud of what he was a part of in Philadelphia.
"I wasn't given nothing. I earned it all. But I wouldn't have earned it all if, say, I would have went to Oakland before I went to Philly," he says. "It would have been totally bizarro world. Philly taught me how to be a professional.
"When I went to other places, I'm not going to say all of them, but it wasn't the same. I'd seen the difference. And I'm like, 'Ah, this was why.'"
Now making his home in Oxford, Mississippi, Burgess owns several housing properties in Mississippi and Tennessee.
A widower, Burgess has three children – two daughters: Xalin, who is a nail technician; and Xhiir, who is a guard/forward on the basketball team at Itawamba Community College; and a son, Derrick, Jr., who is a junior at Lafayette High School. A defensive end on the football team, he was MAC 5A first-team all-state selection last season.