Chosen late in the 1996 draft by Pittsburgh out of Arkansas State, Carlos Emmons used determination and talent to beat the odds and make the Steelers' roster. After two seasons, he beat the odds again and became a starting outside linebacker.
His work ethic and desire to improve didn't go unnoticed. And when he became an unrestricted free agent in 2000, the Eagles were more than interested. The feeling was mutual.
"I was excited about them having (Donovan) McNabb at quarterback. I felt that with the way the Eagles were going, that he was going to give them a greater chance to win, which turned out to be true," Emmons says. "And I liked the way they embraced me when I came in. Showing that made me feel that they really wanted me in there. All of that really impressed me."
In his first year, Emmons helped Philadelphia post an impressive 11-5 record, and make the playoffs for the first time since 1996. The following three seasons would see the Eagles play in the NFC Championship Game. Granted, they didn't advance to the Super Bowl, but during those four years, they won 46 of 64 games. Why were they successful?
"We were talented for one. We learned to play together. We learned to embrace the different effects on defense within Jim Johnson's system. He was a brilliant coordinator for putting together game plans to take advantage of other team's weaknesses. I think he put us into position to really be outstanding on defense," Emmons says.
"And then having guys like Duce (Staley) or later (Brian) Westbrook or Donovan at quarterback, guys like that, they gave us a boost. When you have a quarterback – and it could be third-and-17 and he runs and gets a first down – it demoralizes a defense. When things like that happen, it benefits the team overall."
Despite all the victories, that is not what Emmons remembers most about his time with the Eagles.
"It's probably kind of awkward to say, but I remember the defeats way more than the wins," Emmons says. "When I think about it, it's always the ones that we let get away. My memory is always clouded by the championship games or losing to the Giants three times that first year (in 2000). Things like that."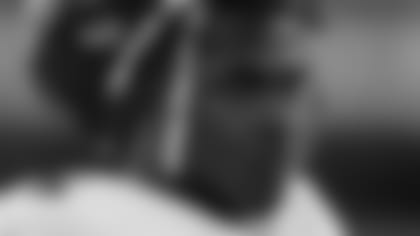 Emmons broke his left leg in the second-to-last game of the 2003 season and missed the playoffs. Voted as the year's Defensive MVP by his teammates, he was released by the Eagles in the offseason, and signed with the Giants. And as fate would have it, Philadelphia hosted New York in the 2004 season opener.
"It was definitely strange. Even signing with the Giants was strange. I felt like I was siding with the enemy, in a sense," Emmons says. "It was awkward being on the other sideline and in the other locker room. But I think what made it special to me was – and we talked about it all week, me and my teammates with the Giants – if they would boo me.
"It was a special moment for me when the crowd cheered when I walked out there. It felt great. I'm not an emotional guy, but I was like, man ... It showed me that the fans really appreciated the work I put in."
Putting in the work for 11 seasons from 1996-06 with the Steelers, Eagles, and Giants, Emmons reflects on what he's most proud of from his career.
"I think beating the odds, coming in as a seventh-round pick," he says. "In the NFL, it's super political. If you were a big name coming out of college or if you got drafted high, you get treated differently. Everyone knows it. You get the best opportunity to play. They're going to put in plays to make sure you make plays, so you look good. They need to look good for drafting you. So, you get all the opportunities.
"But when you come in and you're (a) low (draft choice or an undrafted free agent), you have to grind and create your own opportunities. So, I think the fact that I was able to do that for such a long time; I think that makes me most proud."
Following his playing days, Emmons continued to create his own opportunities. After earning an MBA in business administration and management from the University of Miami, Emmons made his home in Atlanta with his daughter, Skye, and entered the restaurant and beverage field.
"I started researching franchises, and from there it was like a spur of the moment thing where I contacted the franchise, met with them, and things started moving superfast," Emmons says. "It went from a conversation to looking for a location within a month. From there, I just took it and ran with it. I originally opened a Wet Willie's (bar and restaurant) franchise (in March 2010). And recently I changed it to my own concept and decided to go on my own."
In March, Emmons opened B51 Restaurant & Bar in Atlanta's Lindbergh City Center that offers a classic American menu. What does he enjoy most about his second career?
"Providing jobs for all the young kids coming up," Emmons says. "I get appreciation out of the fact that I hear stories from some of them. 'Man, I'm glad I got this job. I was about to lose my house,' or, 'My mom doesn't have this and I'm taking care of her.' Having a business and being able to provide jobs to people and help other families, I think that gives me the most appreciation."