If it wasn't clear before last season that running back Brian Westbrook is one of the best players in the NFL, he ended any debate with his franchise-record 2,104 yards from scrimmage. But we praise Westbrook enough, let's hear what players around the league have to say about the superstar back.
Patriots head coach Bill Belichick on why Westbrook is such a difference maker: "He does everything well. He's just an outstanding player. He's got great quickness, he's a hard guy to tackle out in space, he's very good on screen passes and out of the backfield. He's obviously got good hands. He's a good inside runner, he has good vision, good balance and good speed… He does it in a lot of different ways. That's what makes him hard to defend - he's pretty good at everything."
Washington Redskins defensive end Jason Taylor on playing against Westbrook: "He's obviously a Pro Bowl player. In my mind, he has a case for (NFL Offensive) MVP. The guy is unbelievable running the ball, catching the ball and his yards after the catch. It makes for a long day for the linebackers who have to cover him."
**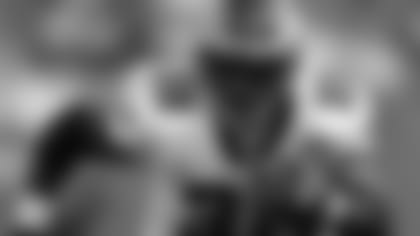 RB Brian Westbrook
Chicago Bears All-Pro defensive tackle Tommie Harris on Westbrook's talent level:** ''He's the best back I've played against since I've been in the league. I've always thought that. I've never seen a back who can do stuff he does- very shifty, his quickness, his speed, catch out of the backfield, toughness, can run you over, different things. He's just the best allaround back I've seen.''
Sportsline's Clark Judge on where Westbrook ranks among the league's best: "A year ago, I insisted he deserved to go to the Pro Bowl, but he lost the election. Now, I'm giving up that fight. Instead, I'm pushing for Brian Westbrook to make it to the All-Pro team, not because he's the best back in the NFC, but because this year he's the best back in the NFL…What Brian Westbrook has done the past two seasons is become more than an all-purpose back who can score critical touchdowns or take the occasional punt return to the house. What he's done the past two seasons is carry the Eagles' offense on his shoulders, much as Tiki Barber did when he was with the New York Giants."
New Orleans Saints linebacker Jonathan Vilma on Westbrook's all-around ability: "He's an every-down, every-type back. I compare him to LaDainian Tomlinson in that he can do everything - run, catch the ball, run screens, run routes. There's not a lot he can't do. He's the total package, and that makes him very difficult to defend."
Former All-Pro running back Marshall Faulk on comparisons about himself and Westbrook, and what he sees in Westbrook: "I think when people look at us, the one thing they say is regardless of what the situation is, we can get it done. That's what he does. He can line up at running back; he can line up at wide receiver. He can do it all. The thing about him is he never has to come out of the game. There are guys that you have to take out on third and long, but that's when you want him in there. I just consider him a great football player and not just a running back. You can't compare him to Larry Johnson, because the carries aren't going to add up, so that's not fair. His touches are different. You just say he's a good football player and his own man."
Former Giants defensive end Michael Strahan on playing against Westbrook: "People always talk about his size and if he can do it every down, but I don't see why not. He's powerful. He's strong. He's low to the ground. You can't hit him up high because he'll shake off the tackle, and if you don't hit him low enough in the legs he'll shake off the tackle. When you watch him, he's one of the scarier backs in the league to play against because he can beat you out of the backfield catching the ball, he can beat you running the ball - he can beat you every way. You can't say enough about the way he plays. And he's definitely the key to the way that offense runs."
Andy Talley, Westbrook's former head football coach while at Villanova, on Brian's leadership qualities: "Brian, up until his senior year, was pretty much a leader by example, because he is fairly quiet. He felt like he could be a leader more by the way he practiced and by the way he played the game, the way he handled himself off the field - he was always pretty much an All-American-type guy, great student, great player, just did it right all the time, always where he needed to be, first one on the field, last one off. But as he went into his fifth year with us, I needed him to be more of a leader, kind of like the situation now with the Eagles, where he's been around long enough. The one thing I said to Brian - you didn't need to say a lot to him - was that as a leader, the thing I need you to do is raise the level of the players around you, because that's what a great leader does. That was kind of the role he took on that year."
Talley on what makes Westbrook so good: "He has great ball skills. He has great hand-eye coordination, and great body leverage. Guys come at him from all angles, but he's very good at avoiding the harsh hits. That's because he's smart about the way he runs and he has great vision. Also, because he's short in stature, he has great body lean and body awareness. It's really hard to get under him and get your hat on the ball."