Chip Kelly opened the eyes of other NFL head coaches and top decision-makers upon his arrival last season with his unique and unorthodox approach to the game both on and off the field.
Kelly implemented a sports science program designed to maximize the physical performance of his players. The Eagles practice on Tuesdays, typically the day off around the league, and have full training sessions the day before a game whereas other teams conduct a walkthrough. The Eagles' no-huddle offense has the ability to wear out opposing defenses, but more importantly empowers the quarterback with the ability to read and react thanks to multiple play calls within each snap - packaged plays.
In the end, Kelly's first year in the NFL was a resounding success. The Eagles went from worst in the NFC East to first as Kelly became just the second rookie head coach to win a division title. Not a single player landed on the Injured Reserve list after the season began. And the Eagles' offense set franchise records for points scored, yards, touchdowns and fewest turnovers. In addition, Philadelphia broke the NFL record for most explosive plays in a season.
It has been said that imitation is the sincerest form of flattery. Other teams around the league wasted no time watching the film and utilizing the Eagles' offensive concepts. The Dolphins lured quarterbacks coach Bill Lazor to Miami to install the same offense. The Packers hired a nutritionist. The Browns are monitoring their players' sleep patterns. The Falcons brought in an outside firm to administer a sports science program.
As Kelly enters his second NFL season, how will he stay ahead of the curve with other teams not hesitating to incorporate something if it works somewhere else?
Simple. With outstanding teachers.
"I think we have a bunch of really, really good teachers that we are all on the same page with, and that's a positive," Kelly said. "They need to be the experts in their field in terms of, you know, whether it's the defensive backs or the offensive line or the quarterbacks or whatever. I don't think this organization is going to work if you have to micromanage individual position coaches."
The Eagles' coordinators and individual position coaches have a combined 332 seasons working in the college and NFL ranks. In all, a dozen of the assistant coaches have been a coordinator and a few assistants such as offensive coordinator Pat Shurmur, defensive line coach/assistant head coach Jerry Azzinaro and inside linebackers coach Rick Minter have been head coaches either at the collegiate or the professional level. In addition, nearly half of the coaches on Kelly's staff have earned a master's degree.
"Coaches are teachers. I think that gets said frequently, but that's the foundation of it. I don't think you can coach unless you really embrace what it is to be a teacher," said Shurmur, who was the head coach of the Cleveland Browns before returning for a second stint with the Eagles. "We all know things. What's important is that we teach players the things that are important to do, what they need to do and create an environment where they feel good about getting better and achieving greatness every day. I think that's what you want from a teacher in the classroom and I think at the foundation of it all is what we are."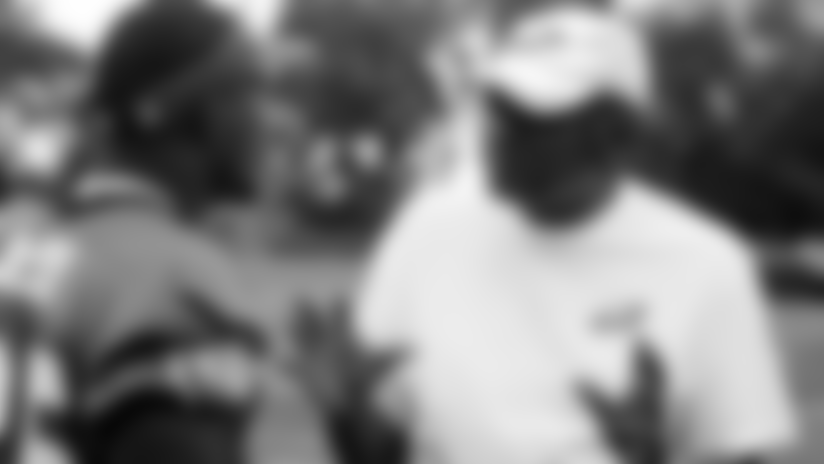 Tight ends coach Ted Williams is entering his 20th season with the Eagles and is the longest-tenured coach in franchise history. Williams initially got into coaching to rectify an inefficiency. A baseball star at Centennial High in Compton, Calif., Williams was on a team with five players who went on to play in the majors. However, Williams' high school teams never finished better than third in the league. Williams vowed to go back and coach his former team, but turned to football when he was faced with a decision - teach junior high or take a football coaching gig. Fortunately for the Eagles, Williams chose the latter. Offensive line coach Jeff Stoutland, on the other hand, considered his path to coaching an act of divine intervention.
"It's like being called to the priesthood," said Stoutland, who coached in the collegiate ranks for 29 years before making the jump to the NFL with Kelly last year. "You know. You just know when it's something that makes you very happy. Every day is a tremendous challenge. If you ask every coach to a man, this isn't a job. It's just an exciting challenge each and every day.
"To be able to take five guys and get them to work together and click together like a five-wheel drive is hard. The challenge is tremendous and to be able to get that done on each and every play, that challenge is a great thing."
How was this group of assistant coaches able to connect and transform the Eagles in such a short time? It can be summed up in a single word - why. Kelly has preached from day one that if the coaching staff can't explain why something is being done then players are not going to buy in. Just as important as the explanation of why something is being done is the way that the message is delivered. Not every student, or player, is the same. Teachers have to come up with ways to reach each individual.
"People accept criticism in different venues and different forms," Williams said. "You've got to find a way to reach them. My experience as a teacher really helped me in that regard."
At the end of the season, the end result comes down to execution. NFL teams can copy and implement ways to improve the playbook or the overall structure of the program. But there's no substitute for experience. And that's how Kelly will look to remain ahead of the curve in his second NFL season.