Weeks of speculation ended at about 5:50 PM Thursday when star Eagles running back Brian Westbrook arrived at his dorm, reporting for training camp at Lehigh University.
Also arriving on time was cornerback Lito Sheppard, who hired agent Drew Rosenhaus last week. The only player missing for the Eagles' mandatory 7 PM team meeting was guard Shawn Andrews, who is absent because of "personal reasons."
Westbrook, admittedly unhappy with his current contract, was considered a candidate to hold out, especially after he fired agent Fletcher Smith last week and hired Todd France.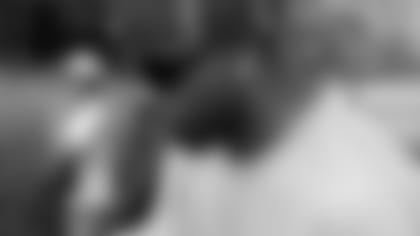 RB Brian Westbrook
"I just wanted to give my agent … the opportunity to talk to (team president) Joe (Banner) and get something done," Westbrook said. "I think that the agents that I did not hire have put out a lot of vicious rumors that are trying to ruin my credibility, and all those things that I read definitely are not all true."
Westbrook said holding out was a possibility, but he wanted to create the best opportunity for renegotiating his contract.
In November 2005, Westbrook, having already established himself as an integral weapon in the Eagles' West Coast offense, signed a five-year contract extension worth a reported $25 million. Since that time, however, his numbers have rapidly increased, making him easily among the top backs in football. This past season, Westbrook's 2,104 yards from scrimmage led the NFL, and his 90 receptions were a team record for any position.
Westbrook wouldn't say exactly how much money he was looking for, but that a report in the Philadelphia Inquirer saying he asked for $30 million guaranteed was only an example he used to show how payouts for top players rise every year. He said he did not ask the front office for that kind of money.
"I didn't mention that as a number that I was necessarily looking for," Westbrook said in a comparison with the contract San Diego Chargers running back LaDainian Tomlinson received in 2004. "It was an extreme example, but that's just how contracts work, usually, over the years."
In the meantime, Westbrook will be practicing with a team looking to improve on an 8-8 season, a task that would be exponentially tougher if Westbrook wasn't around. This season, coaches have expressed a desire to lighten Westbrook's workload, in an effort to preserve his health, lengthen his career and keep his big-play ability intact.
"I've come to play football. When I get on the football field, I come to do my job," Westbrook said. "I hired an agent, so I'm going to allow him to address my off-the-field issues. I feel very comfortable with him. I think he's a competent agent, a guy that can get the deal done, and I'm sure that he will."