Seventy-two hours doesn't sound like a lot of time, but apparently that's how long it takes for Brian Westbrook to heal.
The three days off between the loss in Baltimore and the triumph over the Cardinals were enough for Westbrook to regain his explosiveness. After gaining just 39 yards on 14 carries against the Ravens, Westbrook gashed Arizona for 110 yards and two touchdowns on 22 totes.
And since the Cardinals game occurred on Thanksgiving night, the Eagles have enjoyed an extra three days rest heading into the Giants contest on Sunday.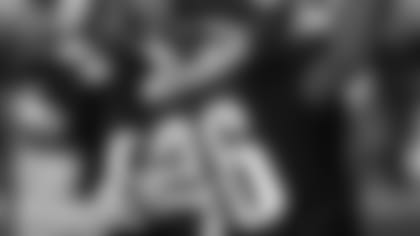 RB Brian Westbrook
To Westbrook, three days are a long time.
"No question," Westbrook said. "That three days of rest is big, especially for a guy who has been injured like I have. Let your knee and ankle rest a little bit. It's been very important for me."
"Since the beginning of the year, since I started getting injured, this probably is the best I've felt," Westbrook said. "Hopefully that will continue and get better as the year goes on."
Besides the obvious fact that Westbrook has been participating in practice rather than watching from the sidelines, head coach Andy Reid has noticed the effect the time off has had on his star running back.
"I think it helped him," Reid said. "I think it helped a whole group of guys. Brian will practice (Wednesday) and feels pretty good. I think, from that standpoint, it's helped him. It's important that we keep the swelling down and manage it, but it's good to have him out there practicing."
Hopefully that will also equate into more carries for Westbrook. In their first encounter with the Giants, Westbrook carried the ball 13 times for 26 yards. In all, the Eagles ran just 21 times but gained 106 yards against New York.
Against Arizona, the Eagles ran 40 times for 185 yards. But Westbrook is normally a focal point for the Giants' defense, so it may be difficult for him to replicate last week's performance.
"They are one of those teams who do focus on me a little bit," Westbrook said. "They try to get a chip with the defensive ends, defensive tackles and double team me with linebackers and things like that. For us, we have to get everybody involved in the game and I have to be productive myself. It's one of those things that, as a team, everybody has to be involved. If a team tries to focus on one player on this team, our receivers, tight ends, other players and running backs have to get involved and help out as well."
Which is what happened against Arizona. Fullback Kyle Eckel and halfback Lorenzo Booker combined for 48 yards on 10 carries and quarterback Donovan McNabb scrambled four times for 24 yards, giving the Eagles a good balance between the run and the pass.
Westbrook hopes the team can start fast in the Meadowlands.
"I don't know what (the) plan is," Westbrook said. "I don't know what (the coaches) will do — I can't see the future. I just think that hopefully we will have some success early on in the game and coach will stay with it."
An extra three days rest won't hurt.