Before the lightning delay at Lincoln Financial Field, Donovan McNabb showed the same pocket presence and mobility that he had in Pittsburgh a week ago.
In a quarter and a half against the Steelers last Friday, McNabb completed 10 of 13 passes for 97 yards and a touchdown. In just 9:59 minutes against the Carolina Panthers at Lincoln Financial Field on Thursday, No. 5 was 6-of-8, good for 45 yards, before lightning forced a stoppage to the game.
The 58-minute "weather delay" may have had an effect on the quarterback, or his receivers, as he finished his one half of action 11-of-24 for 98 yards and no scores. Coming back on the field and getting back in rhythm seemed to be a problem for the passing game.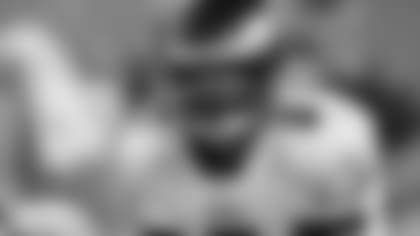 QB Donovan McNabb
"It was a little tough," McNabb said. "It was kind of pudding for the receivers. For me, it was about working on ball placement. I just tried to get the ball in a position where they could come down with it and possibly pick up yards. (The delay) threw some different things off, but we were able to work through it, pick up some big yards on catches and move the chains a little bit."
Brian Westbrook did not get a chance to break a big run in his first preseason appearance, carrying the ball only five times for 14 yards. Receiving, however, was not an area that newly re-signed running back needed to worry about. His two catches went for 17 yards.
Mother Nature was the biggest foe for the Eagles when all was said and done.
"It's difficult to get back out there and get the juices going again a little bit and go back out there and play. But it's one of those things we have to deal with and the guys came back and they did a good job," Westbrook said. "The refs, they did a good job of trying to make sure it was safe for us out there. But we did see a couple of lightning bolts out there when we came back out – (it was) definitely a dangerous situation."
Head coach Andy Reid ultimately made the call to put his top two offensive stars back on the field, but not without checking with them first.
"We just kind of went around and saw how the guys were feeling," Reid said. "They've got to do that. They've got to treat it like coming out at halftime. I know it was longer but they gave us a little time to warm-up and get going so it was a good test."
The next test takes place August 22 in New England.
Hopefully there isn't any snow.