Doug Pederson hasn't had much time to play golf this offseason. And that's just fine with him. As he prepares for the American Century Celebrity Golf Tournament, Pederson's world is much different after winning a Super Bowl.
LAKE TAHOE, NEVADA – The crowd around Doug Pederson gathers as he walks to the first tee. He's got tournament officials walking up to him, asking for pictures, American Century executives with whom to shake hands, coaches, and celebrities to pal around with. Doug Pederson, Super Bowl Champion, is in demand.
Pederson's five-week getaway from football which started when the team received its Super Bowl Championship Rings to the Training Camp report date of July 25 arrives included a trip to Punta Cana with his wife, Jeannie, and this, the American Century Celebrity Championship Golf Tournament. Pederson and Jeannie are here with their three sons, Drew, Josh and Joel – Josh is the caddy for the three-round tournament which kicks off Friday.
On this day, Pederson is playing a practice round with some executives, and he's walking and talking and catching up as the Eagles draw closer to the open of Training Camp. Pederson, a big hitter with a terrific golf game – he's playing to a handicap of about 12 right now – for someone who didn't pick up a golf club this year until April 27 when he zipped through a round at his home club, Laurel Creek Country Club in Mount Laurel, New Jersey before hightailing it to the NovaCare Complex to prepare for Round 2 of the NFL Draft.
He's played 17 rounds in 2018. It's not enough golf to be at his best, and that's fine with Pederson.
"Pretty busy offseason. A short one," Pederson says, laughing. "I'll take it. My golf game isn't where it could be, but, boy, I love that Lombardi Trophy."
Pederson's world has turned upside down since last year at this time, when as a first-timer playing this event he compared the Eagles entering 2017 to the Packers team he played with that won the Super Bowl. Pederson's confidence raised eyebrows, but who was right in the end?
"Winning the Super Bowl, obviously, changed a lot of things, put me in a little bit of a different light, made me more recognizable. You can't hide in the back anymore, which is fine with me. Not that that was my intention, but you sort of go out there and do your job and get the guys ready to play every week and establish something," says Pederson, who has worn his ring often since receiving it and has shown it to fans, who have been dazzled by the beauty and the detail of the 219 diamonds. "I've always felt confident in my ability. But the first thing you have to do as a head coach is to have everybody buy into what you're saying. That takes time. The thing that probably makes me the most proud is that the guys bought into me, and it really happened late in that first season.
"The attention, you just have to take it in stride. You can't get too overwhelmed with it. You have to realize that if nobody is talking to you, then you've probably got issues. You manage it and you try to keep it at arm's lengths. There are going to be a lot of fans out there, a lot of autographs and that's what it's all about. These are the people who come to our games and who make our game great.
"Otherwise, I just want to play some golf and have fun and see how I do with the pressure. I want to be better than I was last year."
Pederson crushes his tee shot, but it veers toward the water on the left, off the fairway. He turns to Josh.
"Whoa, slow down. You nervous?" Josh asks him. A state championship golfer in Kansas in his high school days, Josh passed up golf scholarships to college to play tight end at Louisiana-Monroe University. "You're a little quick."
"Still," Pederson says back. "I'm not nervous. I just need to get a feel going."
As we walk to the second shot in the scramble format, where only the best ball is played, Pederson talks about the crowds when he's on the golf course.
"First time really was here last year. It's the worst. So much pressure. It's the most nerve-wracking thing. I was visibly jittery up there," he says. "That's what I gotta overcome this time. I have to be used to it. Just go out and rip it, let loose. No doubt I'd rather be on the sidelines calling a play on fourth-and-goal at the 1-yard line than have people watch me play golf."
Once again off the tee Pederson goes big, about 280 yards, and the ball draws left again into the rough. This time, Pederson isn't unhappy.
"I hit it OK, just a little fast at the top still," he says. "That's what is so great about playing, about getting away. This doesn't matter at all, but you get your juices flowing and it means something. You have to slow down and correct your game. I love it."
Pederson chips to about 15 feet away from the cup. It's a makeable putt. But on these greens, slicks and undulating and extremely difficult, all five shots miss.
Some good, some not so good, and here come the fans. Pederson's drive carries and then roles into the middle of the fairway on the Par 5. He scalds his second shot to the lip of the water. The approach shot goes through the green, with an impossible right-side pin location. A chip from just off the green doesn't release from the rough.
"Yeah, I'm just not feeling it," he said. "The short game, that's where all your strokes go."
The fans start to swarm Pederson, handfuls at a time. A lovely lady tells Pederson she is the aunt of former Eagles tight end Jeff Thomason, a teammate of Pederson's in Green Bay, and Pederson shares in the story and poses for pictures.
He signs every request. Pederson is starting to lag behind the pace of play as the autograph seekers find him.
Another big drive, more trouble on the left side. Pederson's tee shot leaks into a low bunker, so the group plays a different second shot. His second shot is a beauty, but just not enough, and he lands just off the green. Where is the rhythm? Pederson walks with Josh, who provides counsel.
"When he's too fast with his swing, he goes left. He thinks he's slowing down, but he isn't," Josh says. "He's just going up there swinging. He needs to settle down."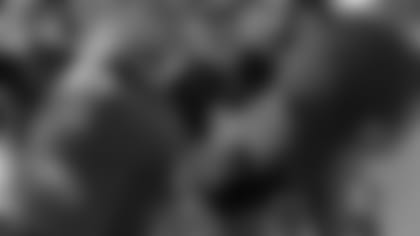 It's an elevated Par 3 and Pederson's tee shot is well short.
"Really?" he says. "I mean, I'm about to start throwing some words around up here. I just don't have a feel at all."
Maybe not, but he does have a gentle touch with the fans, who are now appearing by the dozens. Pederson signs all the requests, poses for every picture.
But his game just isn't there.
"I'm not going to let it bother me," he says. "This is all fun. Signing autographs, all the people around, I know what's going on. You have to play to be sharp."
We aren't talking football. Not the right time. The man has a tournament to play, one that provides $600,000 in money to the players, including $125,000 to the winner. Pederson is 100-1 on the books.
On a Par 4, 417-yard hole Pederson's drive is left again, but this time he carries the traps, gets a bounce, and sits 90 yards away from the pin, located at the front tip of the green. The chip from 90 yards dumps into the trap. Ugh.
But as Pederson walks off the green, he's greeted by a large group of fans, including John Stuffick from Philadelphia, who is with his family and is wearing a Carson Wentz jersey. "Thank you, Doug, thank you. Thank you for winning the Super Bowl," Stuffick says. "You are the man."
Pederson signs the jersey, and one worn by Stuffick's friend, and the two are bowled over with delight.
"We came all the way here from Philadelphia for this," Stuffick says. "It's all worth it now."
Another Par 3, and the fans are rowdy. Eagles fans are in the house as Pederson's tee shot lands and sticks on the green, 30 feet from the cup. "He golfs like he coaches," one says. "He's going for it!" Yells another fan, "Philly special in the house!"
As Pederson lines up his putt, an Eagles fan wearing a kelly green Jim McMahon jersey No. 9 and an Eagles Super Bowl hat and yells, "Eagles!" and Pederson raises his arms and laughs. His putt misses by four inches.
Prior to teeing off, Pederson gathers his wife and sons Josh and Drew (Joel is still sleeping) and poses for a picture with the Claret Jug, which is given to the winner of the British Open.
"It's nice," Pederson says, "but it's not the Lombardi Trophy. That's a much nicer trophy."
Pederson's tee shot is big and bounces to a stop on the left side of the fairway rough, 135 yards out.
"I like what we did in the spring, how the guys responded after the short offseason," Pederson says, talking Eagles. "It's tough to repeat. We know that. That's our goal. We know teams are going to be gunning for us. We have to be at our best every day. I think that's a challenge for all of us."
Pederson's approach shot lands on the green, but doesn't release as he wanted. He's well short of the cup. No birdie chance on this green, once again.
"The recognition, the autographs this year compared to last year, already 100 times bigger," he says. "I probably signed about 10 autographs all week last year and they were Eagles fans who showed up. Now, it's blown up. But I'm gonna try to take care of as many as I can. I know I can't accommodate everyone, but I'm gonna try."
Pederson crushes his tee shot, his best contact on the front nine. Then he sets up from about 150 yards out and hits his shot "a little thin there. A little up and out." It flies past the pin and bangs into the backstop, leaving a dent just 10 feet below where fans are sitting. Pederson walks over, laughing with the fans.
The group plays a different second shot and Pederson putts last. He nails it from eight feet away and pumps his fist.
"That's the way I am. Never stop plugging away. Never stop trying and you hope things are going to turn your way," Pederson says. "You believe in yourself and you believe in those around you. That's what we did last year. It's something none of us will ever forget. But we're moving on and I'm excited about it. When it comes, I'm going to be ready. We're going to be ready. I know the fans are going to be ready and it's going to be a lot of fun.
"But right now, I just want to play some golf and enjoy this time with my family. The down time, we don't get much of it. No matter how I play, I'm going to go out there and have a good time. I'm a big underdog. I like that role."