Despite carrying just four healthy wide receivers on their active roster for most of the season, it's looking like the Eagles might have a clean slate coming out of the bye week.
And though Reggie Brown's role is still up in the air since he was limited in practice on Wednesday, the return of Kevin Curtis from a sports hernia offered an interesting question: what would happen to electric rookie DeSean Jackson?
Head coach Andy Reid minced no words on Wednesday, though. The rookie, his leading receiver, would be starting alongside Curtis against Atlanta on Sunday.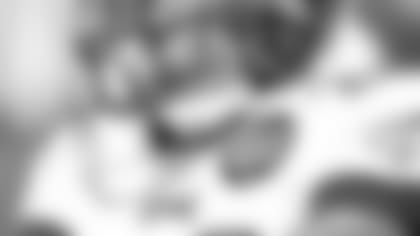 WR DeSean Jackson has not shown a lack of confidence despite being a rookie
"It's a big situation for me, it's a big situation for our team," Jackson said. "So far, it's been great. I've just been putting a lot of hard work into it, and dedication."
Rewind just three months, and Jackson couldn't even crack third string on the depth chart before training camp. It wasn't an indictment of his ability or work ethic, but more an endorsement of the difficulties rookies face breaking into Reid's system early. And even from the most fervent optimist, the expectations for Jackson weren't extremely high. Should he have contributed from the slot offensively while making plays on punt returns, he would have done his job.
But through six games, Jackson's 433 receiving yards lead the Eagles, and the total is good enough for 17th overall in the NFL, by far the best total for a rookie. He's broken into the end zone on a punt return, and his gamebreaking ability there has spiced up the Eagles' field position.
That's why Jackson won't be seeing decreased reps come Sunday, despite an obvious competition for more balls.
"You definitely have to be a competitor playing this game," Jackson said. "With that being said, we all know the importance of being out there to contribute as an individual for a team. We don't really get caught up in individual success. Everybody will want it, but it doesn't do any good when you're not winning."
It might be a stretch to call Jackson a team leader just yet, but his impact isn't hard to notice. In the locker room following the Week 6 win in San Francisco, Jackson was leading his offensive teammates in a chant/song hybrid.
It's all about fun, Jackson said.
"It's just a passion to win," Jackson said. "It's hard for me to take a loss. It's hard for me to see my team out there losing. It's tough. It's definitely not a good feeling."
So right now, maybe it isn't all that surprising that we'll still be seeing quite a lot of Jackson. Maybe it was during preseason. Maybe it was after his notorious "fumble" at Texas Stadium.
"It definitely was a vote of confidence (from the coaches), but that's something I brought in on my own, with the swagger and the confidence," Jackson said of being named the starter. "I'm just working hard to stay at this spot. You can't get satisfied; you've got to keep putting in the work."