Over the past three seasons, Michael Vick and DeSean Jackson have formed quite the tandem in Philadelphia. The two have combined for 2,497 yards through the air together, the highest total for any wide receiver that Vick has ever played with.  As the two players continue to grow in their new offensive system, they will have an early opportunity to take the field against a team that they have historically been very good against - the Washington Redskins.
The best example of the duo's excellent play against Washington came in 2010 when the Eagles defeated the Redskins 59-28 in a game that Eagles fans will never forget. Vick was stellar, throwing for 333 yards and four touchdowns, while rushing for 80 yards and two more scores. The offense started with a bang, as Vick found Jackson racing down the middle of FedEx Field for an 88-yard touchdown strike on the first play from scrimmage. Despite the career night, Vick doesn't look back at that game. Instead, he focuses on moving forward.
"I really don't think about the game because in this league it's all about what you do the week prior," explained Vick. "Everything else you do is behind that. It doesn't even matter. I appreciate the things that I was able to accomplish that night. I always want to do it again. I wish I could do it week in and week out. I'm appreciative of it, but that was so long ago. I've got to make that kind of magic happen again this year at some point."
Vick is 6-1 in his career against Washington, throwing for 1,081 yards, 10 touchdowns and just two interceptions. He also has the highest passer rating (110.5) against the Redskins of any quarterback. Even with his past success in mind, Vick never takes an opponent lightly.
"You're never comfortable playing against any team in this league," Vick said. "You can play a team that is 1-14 and you can lose that game easily. I guess I've just had some good teams that I've been surrounded with at the time. We did whatever it took to win the football game. Not by any means are the Redskins an easy opponent to beat. I go into every game concerned, understanding that it can potentially get out of hand. As of right now, we need to make sure we know exactly what we need to know to win this game."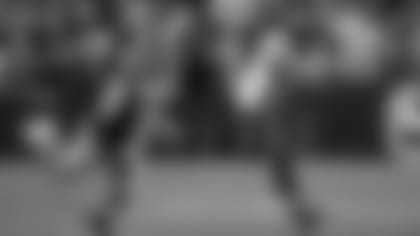 Jackson, meanwhile, has been very comfortable when it comes to making big plays. As demonstrated by the aforementioned 88-yard connection, Jackson has always had a knack for being able to beat the opposing secondary with the big play over the top, and the same holds true when he has played Washington. The California product has 23 career touchdown catches that have gone for 30 yards or longer, and six of those have come against the Redskins. Jackson has made his living in this league by being a constant threat to go deep at any time, but the sixth-year pro knows that he now needs to become more versatile.
"In the past, teams have done a great job of seeing what I've done early in my career with making the big plays and electrifying plays and things like that, but now with this offense coming in, it's really going to be a plus in my eyes," Jackson said following Wednesday's practice.  "A lot of teams don't really know what to expect. Regardless of what we did in the preseason, I still think there are a lot of plays that have been hidden and that we haven't been running. (Chip Kelly's) versatility with the offense (will) keep the defense off-guard.
"Regardless of where I come out every play with the tempo and with the speed plays and intensity and things like that, we'll always be able to keep them off-guard. Whether it's down the field, options, reverses, getting the ball out quick and things like that - those are things that we're going to take advantage of, and hopefully once we get them to kind of play up, we can go down the field a little bit."
Vick agreed that in order to get the most out of Jackson, the Eagles will need to use their speedy playmaker in a number of different ways.
"You just have to move DeSean around and kind of psyche the defense out and not make it predictable in terms of what you're going to do," Vick said. "You move him inside, you move him outside, and you go deep when you get your opportunities. You don't just line up and send him deep all of the time. I think Coach Kelly has a way of getting the ball to him in the right situations. ... He's more confident and he's ready to play some good football. I expect a lot of big things from him this year."
Vick is entering a crucial season. After restructuring his contract in the offseason, Vick has had to battle throughout the spring and summer to earn the starting job. Jackson is extremely confident that Vick will be as explosive as ever, saying that the Eagles' signal-caller is still one of the best in the business.
"He still has the capability of going out there and giving your team a chance to win," Jackson stated. "His playmaking skills, his arm strength, everything he has - I definitely think he is a franchise quarterback in this league. The biggest thing is him just being smart and knowing when to take hits and knowing when not to take them, and as a quarterback you definitely have to protect the football. As a team and as an offense we have to help him with doing the right things and being smart and protecting him, the whole nine. A lot of times, people put it all on the quarterback, but they still need help from the other 10 guys on the field."
Nine times the Vick-to-Jackson combo has gone for over 100 yards in a game. The pair has gone over 150 yards four times, and have also gone over the 200-yard marker once. By all accounts, Jackson and Vick have become one of the most explosive pairings in NFL history. They've been through the ups and downs together, and they have each become better players having done it.
"He was able to stay calm and do what he needed to do as a quarterback," Jackson said. "I feel that any guy who's been in this league that long and has so many years starting and the accolades that he's had in his career, it probably would have been tough for a guy so sit there and say you're competing with a second-year player, regardless of what the case may be. Chip Kelly did that with a lot of people, myself as well. He never really came in and started guaranteeing positions. He wanted everybody to come in and work and show what they were capable of doing, and throughout the process, (Kelly) made him more mature, even though he's in his 30s.
"He's still one of those guys who I look up to because of how he handles his business and does the things he needs to do. He comes in early and stays later. I think (the quarterback competition) calmed him down and let him know what he needs to do as a starting quarterback in this league. As long as he's smart and he does what he needs to do, I think he'll have the position throughout the season."