The Eagles hit the practice field for the first time under head coach Chip Kelly Tuesday, officially beginning the team's three-day veteran minicamp. As Kelly addressed the media following practice, there was no surprise as to the first question: who was the quarterback?
The answer? Nick Foles. And Michael Vick. And Dennis Dixon.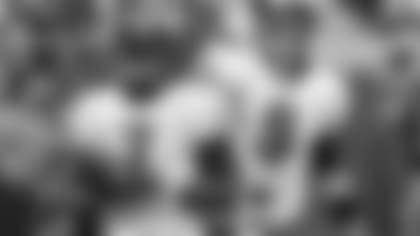 "Nick was. Mike was and I think Dennis actually got reps with them," Kelly said. "I think the first snap of (seven-on-seven) Mike took and I think the first snap of team, Nick may have took. We had three team periods, two seven-on periods, so it rotated ... There wasn't one set guy that just went through the entire day. All those guys got an opportunity to roll through.
"It's April 16th, so we're not playing until next September. We're going to use the full available time for us to make a full evaluation of who it is and I think it fosters competition. I think those guys love competition, that's why they're in that position and they know it. I think our guys really understand. I think everybody knows where they stand and that's a big thing for us. There's not a lot of gray area. Everybody knows they're going to get a lot of reps. We want to get things on tape so we can teach and really sometimes the only way you can teach somebody is they have to make a mistake."
All 74 players on the Eagles roster were present and accounted for, though three were not full participants: center Jason Kelce, linebacker Chris McCoy and tight end Evan Moore. Noticeably absent from that trio is left tackle Jason Peters, who was a full participant as he returns from the torn Achilles that kept him out for the entirety of the 2012 season.
"Jason looked kind of what I had hoped that he would look like," Kelly said. "First off, he's a very big human being that moves extremely well. He participated through the full practice. I think it's one of those  deals where it's probably a good sign when you never looked over and said, 'Geez, he doesn't look like himself right now.' He was moving around and looked really at home at left tackle. So, when you have someone that's got that type of talent at that type of size, it's encouraging to see him get through that practice."
On the defensive side of the ball, Kelly said this period is all about the coaching staff getting to know what the players can and cannot do. Take Brandon Graham for example.
"We're trying to see if Brandon is a guy that can drop and play in coverage or is he more of a natural defensive end?" Kelly said. "That's more of what this process is about for us is finally getting   chance to identify our talent on the defensive side of the ball and then putting them in positions to make plays. If we really feel that Brandon can, then that's another weapon that (defensive coordinator Billy Davis) has to use in terms of what he can use defensively. But if we don't think Brandon's a great drop guy then shame on us if we're making him do that. That's what this process for us, in terms of evaluating these guys from an athletic standpoint and knowledge standpoint is part of that. We did some three-down (linemen) spacing today, we did some four-down spacing today but we're by no means dialed in on 'This is what we're going to do,' because, again, it's day one.
"First-team means nothing to us. It's how many reps can we get? So I don't care if you were on the first-team reps, second-team reps, third-team reps. We don't grade you any differently ... Our whole mantra right now is I don't care who's in with the one's, who's in with the two's, we just have to make sure we got 11 and let's roll and let's get some reps and let's get some film that we can teach off of."
Finally, Kelly explained the team's release of quarterback Trent Edwards on Monday.
"Trent actually asked us if he could get an opportunity, could he fit in somewhere else and we helped him out with that," said Kelly.