Following the 2007 season, defensive coordinator Jim Johnson looked at how many times his defense caused a turnover and he didn't like what he saw.
The Eagles had just 19 takeaways, which was 10 less than it had a year earlier and eight less than it acquired in 2005.
During the off-season leading up to the 2008 campaign, Johnson made it a priority to stress the importance of turnovers.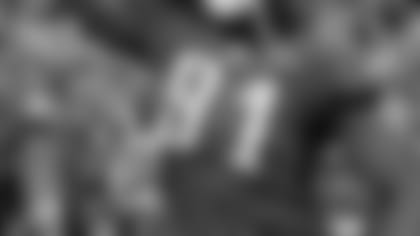 DE Chris Clemons after his fumble return for a TD against the Cowboys
The result was a ball-hawking, opportunity-seizing defense that not only forced 29 takeaways, but also converted five of those turnovers into touchdowns.
Add in a kickoff and punt return for touchdowns and the Eagles were second only to Green Bay (nine) for most returns for a touchdown in 2008.
Just before the last game of the regular season against the Cowboys, when the Eagles had two of those scores, Johnson realized just how much his defense improved throughout the year.
"It has come a long way," Johnson said. "I think we're a much better defense right now."
A lot of that success had to do with the addition of cornerback Asante Samuel, who led the team with four interceptions, including a return for a touchdown against the Browns.
Safety Quintin Mikell finished second on the team with three interceptions, but both could have had a few more, especially in the late-season 10-3 loss at Washington. Both Samuel and Mikell dropped sure-fire interceptions that day.
"It's one of those things where both have good hands," Johnson said. "If you're going to have one guy out there making a play, you'd like Asante to be the guy and Quintin Mikell the same way. They are two of our better players, but it just didn't happen (that day)."
Still, the Eagles got exactly what they had hoped to get from Samuel, especially in the postseason where he had two interceptions, one of which he returned for another score.
"When we got him, we knew exactly what we had; a guy who was going to make plays and he's lived up to it," Johnson said during the season. "He does a great job as far as breaking on routes and there's no reason that he can't have six or seven interceptions a year. He has those kinds of hands and he can break on routes. I'm happy with him."
Following the tie in Cincinnati, Johnson lamented that Samuel could have had as many as three interceptions during the game. That's when he mentioned that the team has been running drills to help secure more turnovers, at least more than they had in 2007.
The Eagles' 10-turnover improvement from 2007 to 2008 was the most in the NFC and was second only to Baltimore's 11-takeaway improvement over the same span.
Apparently, those drills worked.
"We drill quite a bit, it's amazing," Johnson said. "We drill turnovers. Just like (in the Cincinnati game), Asante could have had two. Here's a guy who has great hands, he's got great break on the ball and he had two chances, or maybe almost three, for interceptions. All we can do is emphasize it. We work on a lot of drills, we talk about it in practice and we practice it in practice with our team getting hands on the balls. That's all you can do."