Generally speaking, being known as gentle and tender-hearted aren't two attributes you'd likely find in a NFL linebacker.
But the people at the Voorhees Animal Orphanage wouldn't recognize Chris Gocong any other way.
Gocong and his wife Mandy have volunteered at the shelter for almost two years now and they've helped the orphanage raise money to help the underprivileged animals.
The fact that Gocong has a soft spot in his heart for animals certainly doesn't make him soft on the gridiron. It's just that even the most hardened of men would crack at the some of the sights in the shelter.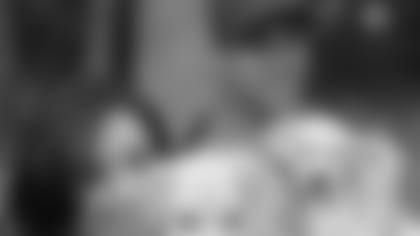 Chris Gocong and his wife, Mandy, do a lot of work with The Animal Orphanage
"I hope I'm not doing any damage to his reputation by saying he's tender-hearted," said Maria Clark, Executive Director of the Voorhees Animal Orphanage. "I'll tell you something, we see a lot of people that resemble Chris, you know, being tough and they just have tender hearts."
When they have a spare moment, Gocong and his wife donate their time and essential supplies. They also play with the animals to help make them more adoptable.
"Just growing up with animals, I was just raised like that," Gocong said. "They're just such great companions. I can't imagine myself without having a pet."
According to Clark, the Gocongs have been instrumental in supporting the shelter. The Gocongs have two cats (Milo and Dolce) and a dog (Bella), but they also foster animals that might not otherwise survive in the shelter.
"Chris and Mandy are just gentle souls," Clark said. "They have a lot of compassion for animals. I think they can do a lot together to help us help animals in need."
Recently, Zootoo.com, a new opinion-sharing Web site for pet owners, held a "million-dollar makeover" contest. Members from Zootoo went around to local animal shelters to determine which shelter was the most in need.
The Gocongs helped publicize the Voorhees Animal Orphanage, which finished ninth overall. Zootoo awarded $5,000 to the shelter.
"I drive by (the shelter) every day going to work," Gocong said. "One day, my wife wanted to go in there and just check out the animals they had there. She started working with them and I kind of go along to raise awareness in the community. It's kind of a run-down shelter.
"It's cool. I'll go in there every now and then and take the dogs out or something like that. Basically I'm using my role as an NFL (player) to generate awareness for them."
The Gocongs do more than put their money where their hearts are. They recently fostered four of six puppies that were abandoned in 100-degree heat last summer. One of the puppies had a detached colon and the Gocongs had to feed him through a bottle.
"They did a tremendous service to us fostering these puppies because they never would have survived in the shelter, they were so malnourished," Clark said. "They gave them a great opportunity for life."
The Gocongs helped inspire the Rocky fund, named after the puppy with the detached colon. It's specifically designed to help animals that are in need of extensive medical care to become adoptable. Since late August, the shelter has raised nearly $8,000 to help animals in need, meaning the Gocongs continue to give animals a great chance at life.
"Chris and Mandy, the first thing they do when they come in they ask, 'Is there anyone that needs surgery that we can help with?' They're great people, they really are. They have great hearts."