Jon Dorenbos has never worked a day in his entire life.
At least not in the sense of work as it pertains to regular people.
Whether it's long-snapping a football, hosting the award-winning Inside The Eagles, entertaining fans with his magic or giving motivational speeches, Dorenbos earns a living by living life to the fullest.
As he's quick to point out, it's not work if you love what you're doing.
"I don't think it's just football, it's life and it's everything in life," Dorenbos said. "Love what you do. I'm very fortunate that the two jobs I've had are things I love to do. I've realized not many people can say that, so you enjoy it. One day it's going to be over and hopefully, when it's over, you can look back and say it was fun and now there is a new chapter in life."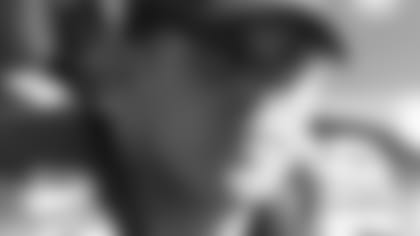 LS Jon Dorenbos
Dorenbos' positive outlook on life stemmed from a childhood tragedy that forced him into a new chapter of his life. When Dorenbos was 12, his father murdered his mother. Shortly after, Dorenbos moved in with his aunt in Seattle, which was where Dorenbos first saw magician Michael Groves perform.
Inspired by that show, magic helped fill a big void in Dorenbos' life.
"You can literally do anything, anything's possible," Dorenbos said. "You can literally do any type of illusion, anything you can think of. There is a logical way to get it done that people can't fathom and you deliver that and then for a few minutes, you entertain people. They have a great time, no matter how old they are. I like that."
If all else fails, Dorenbos jokingly has a future as a petty thief.
"Any time you pick pocket or steal watches, I think that's fun," Dorenbos said. "I do a thing called threading the needle, where you swallow 10-20 needles and thread them in your throat and you bring them out on a piece of string. It's fun to do. You really have to concentrate on that one. I like it all. I love cards. I'm a card guy and I love stand up. I love stand-up comedy magic, it's fun."
If it wasn't fun, Dorenbos wouldn't be doing it, which means long-snapping must be one cool gig.
It comes with its share of pressure, though. If Dorenbos makes a mistake with a magic trick, he can quickly move on to the next illusion. If he makes a mistake on the football field, the ramifications are much higher.
Dorenbos said that he relies heavily on the thick skin he's developed over the years.
"I would say the No. 1 thing about being a snapper, a punter, a kicker is your mental game because it's one of those positions that if you, heaven forbid, you screw up, you go sit on the sideline for 20 minutes until you play again where if the other guys mess up on first down, 30 seconds later they can have a big play and it's all forgotten," Dorenbos said. "Mentally you have to be strong. You have to be confident in your ability and you definitely can't let things get to you. You got to have thick skin. So you practice and you prepare and hopefully, all goes right on game day."
That's probably one of things Dorenbos enjoys most about long snapping. As long as he does his job, he makes multitudes of Eagles' fans happy each and every week. He treats each snap like it was the most important one of his life.
"Every time that I snap the ball in practice or a game, I always tell myself it's a game-winning field goal," Dorenbos said. "So when it is, it's no big deal. One thing that I've learned in my career is to keep my heart rate down the whole game. I don't get too high. I don't get too low. I watch it for what it is and if we win, then I celebrate afterwards."
Dorenbos' rise from tragedy is inspirational to others and he makes sure to deliver a strong message during one of his motivational speeches.
"To strip it down, life's a gift and that the joys of life will always outweigh the bad things that happen," Dorenbos said. "I think that everywhere people go, you influence people all around you. It doesn't matter how old you are, it doesn't matter who it is. So, if you make the right choices, hopefully those that you influence will do the same. Everybody has a gift. Everybody has something to share in this world and it's a sin if you don't care, if you (don't) teach it. Whatever it is that you do, teach people who want to learn. Do what you can to make this place better."
Even if things don't go right, Dorenbos is prepared because he learned how to deal with adversity early in life. Those lessons help define who he is today.
"I've said it before that football is not who I am, it's what I love to do and magic's not who I am. It's what I love to do," Dorenbos said. "Who knows what life holds for me tomorrow? I'm here now and I'm going to enjoy it. I'm rockin'."