When Giants defensive end Justin Tuck finished eating his turkey on Thanksgiving night, he flipped on his TV and watched the Eagles have their way with the NFC West-leading Arizona Cardinals.
He knew right then his team would be facing a feisty, cornered animal on Dec. 7th in the Meadowlands.
"There's something about Philly as far as when their backs are against the wall, they come out swinging," Tuck said. "And when they come out swinging, obviously they are tough to beat. They proved that against the Cardinals. They came out fighting. We expect the same thing here on Sunday."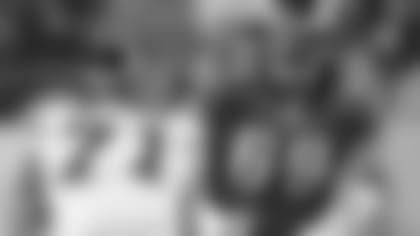 OT Jon Runyan will have his hands full with Justin Tuck on Sunday
Since getting drafted out of Notre Dame in 2005, Tuck has learned a lot of lessons about the NFL.
He credits Pro Bowl players Michael Strahan and Osi Umenyiora for teaching him the ropes. Tuck sat behind Strahan and Umenyiora during his early time in the league and while some players would be pining for the opportunity to get into the lineup, Tuck patiently used his time to fine tune his skills.
During those three years, Tuck started just three games while accruing 11 sacks. This year alone, Tuck has started every game, is fifth in the league with 11.5 sacks, has three forced fumbles and caught his first career interception.
The third-round pick is paying huge dividends.
"I think waiting in the wings was absolutely a blessing for me," Tuck said. "Being able to sit back and just watch Osi and Stray as far as how they went about their business, it really gave me an opportunity to get a feel for how the game would go. I honestly feel that it was the best thing to happen to me, playing behind those two guys for three years."
The Giants have had the uncanny ability to overcome all sorts of adversity over the course of the past two seasons. After star wideout Plaxico Burress ended his season with an accidental, self-inflicted wound, they'll have to do it again on Sunday.
Tuck said the coaching staff has done an excellent job making sure everyone on the team keeps their eyes on the ultimate prize.
"I think turmoil and confusion can kind of like be the best thing that ever happened because it really has the ability, if you let it, to bring a team together," Tuck said. "I honestly think it's a combination of our coaches, especially Coach (Tom) Coughlin, (who) really instilled in us that we're never satisfied with anything you do. And we aren't satisfied with one Super Bowl ring. We want another one and another one after that. I think that's the gist of it. It really isn't as complicated as people think it is. I really don't understand why people make such a big deal that we've had success this year."
In fact, Tuck encourages people to keep not to believing in him or the Giants.
"I don't think anybody on the Giants was surprised (about this year's success)," Tuck said. "That's one of the reasons why they re-signed me. Other than that, I don't too much care if anybody else was surprised. I hope they continue to be."
One thing's for sure: Tuck knows the Giants will have their hands full on Sunday afternoon.
"The Eagles always play us good," Tuck said. "I don't what they do against other people, but every week we play them, they seem like they're the best team we've played so far this year. Obviously, they gave us a (heck) of a game down there and we expect it to be that way here.
"We know what we're getting ourselves into as far as the quality of football team that's going to come into Giants Stadium on Sunday."