Trent Cole has rushed the passer out of a two-point stance in the past. And, yes, he's even dropped back into coverage.
Cole has been one of the most prolific sack artists in the history of the Philadelphia Eagles. For a franchise that has boasted some storied defenses, Cole's position as No. 3 on the sack list with 71 quarterback takedowns is impressive.
He accumulated most of those sacks with his hand in the dirt. For him to add to his collection, he will have to execute out of a two-point stance on a more frequent basis. Certainly, Cole could be recalcitrant in making a transition in his ninth NFL season. But the longest-tenured member of the defense is taking the challenge head on – the same way he's dealt with opposing offensive linemen.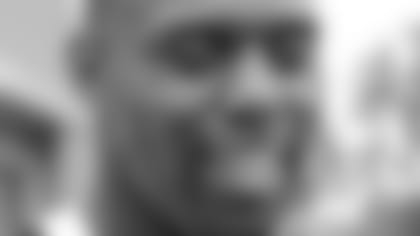 "It's a new challenge. I'm a very competitive person. I'm really a stubborn-type person. I don't want to fail at anything. I'm going to go all-out so I can be successful at it. I think that's helped me through my whole career. I'm just going to keep moving from here," said Cole, who will still play defensive end in certain packages.
"I've been in the league for nine years now. I've got to get my mind mentally ready to start back over again. I've got to wipe my slate clean."
The leftover sting of the 2012 season is another reason Cole is open to a fresh start. The Eagles had their worst record since Cole was selected in the fifth round of the 2005 NFL Draft. Individually, Cole had just 3.0 sacks, the lowest total of his career.
"To have the season we had last year, there's nothing wrong with change. It's a new team. I'm going to enjoy myself out here," said Cole, who physically feels better than at any point in his career. "It's new. There's nothing wrong with new. Everybody loves new. Everybody loves something new."
Cole is certainly not the first player to make such a transition late in his career. Just a year ago, Robert Mathis of the Indianapolis Colts made the switch from 4-3 end to 3-4 outside linebacker in his 10th NFL season and registered 8.0 sacks in 12 games. Cole said that building endurance has been the toughest part of the transition.
"It's a different speed. That's the biggest thing about it. At D-end, you're running 20 yards. You're fighting. It's a different type of endurance, technique. When you're out there running a lot more than usual, that's the biggest challenge, getting your legs up underneath you," Cole said.
"When you have endurance, you can be a great player. Anybody can be a great player when they have endurance. I think that's where a lot of it comes from."
Even though it's been just under two months since he's started working with the new coaching staff, Cole considers the position to feel natural. To help, the Eagles signed former Texan Connor Barwin in free agency to pair up with Cole. Barwin had 11.5 sacks in 2011 and, like Cole, is looking to bounce back after also having 3.0 sacks last season.
"It's pretty tough until you can really get your legs up underneath you running like that," Cole said. "I feel like I can play better now since my legs are up underneath me. I think I can improve some more, but I'm going to get there no matter what."