There's no formula for adapting to life in the NFL as a rookie. Some players come in ready to contribute immediately, some take years of seasoning before they're ready to play while most simply fall by the wayside. In other words, being a rookie is hard enough without having to overcome extra hurdles.
This summer, the Eagles seem to have struck gold early with several rookies who arrived ready for primetime. Five first-year players – Lane Johnson, Zach Ertz, Bennie Logan, Earl Wolff and Damion Square – have spent significant time working with the first-team offense or defense. But there are also a few rookies who, for one reason or another, struggled to adapt in the early days of Training Camp.
With roster cutdowns looming just over a week away, three slow starters have begun to make their move.
Joe Kruger's maturity belies his status as the youngest player on the Eagles roster. Perhaps it's because he comes from such a prolific football family, but the seventh-round pick seems very aware of where he stands. With seemingly few spots up for grabs along the three-man defensive line, Kruger has watched as Logan and Square, fellow rookies, have made an instant impact.
The youngest of three brothers in the NFL, along with Browns linebacker Paul – formerly of the Baltimore Ravens – and Browns defensive tackle Dave, Kruger is accustomed to fighting for attention. Not unlike a child waving to catch his parents' eyes, Kruger will have to start with his hands if he's to gain the right kind of attention from the Eagles coaches.
After playing in 4-3 defense during his time at Utah, Kruger has had to adjust to working in a two-gap defense. Along the way, the biggest focus has been improving hand technique.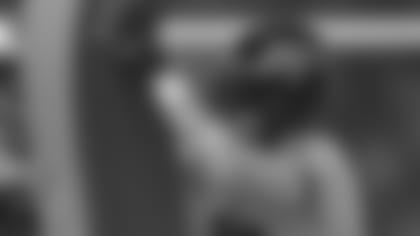 "For a defense like this, for two-gapping, it's everything," Kruger said. "If you don't use your hands then you're going to get beat and you're not going to be able to get off blocks, make plays. Any good two-gapper in the league, you see that they use their hands and that's what it's all about.
"I feel like I've definitely learned a lot. This two-gapping stuff is definitely coming around for me. I still have a long way to go, but I feel like I understand the concept of it and understand what I need to do to be able to contribute. I feel a lot more comfortable than I did before."
When he's not defending his status as locker room ping-pong champion, Kruger's focus has been on watching tape and studying teammates like Isaac Sopoaga, Cedric Thornton and Clifton Geathers to learn better hand technique. The rookie knows that he might have started Training Camp slowly, but he believes the progress is now coming quickly.
"The last couple days, I feel like I've been using my hands a lot better honestly," Kruger said. "That's just something that happens. When you become comfortable, you become comfortable. I can't say when it's going to happen, but it does have to happen soon. I mean, I have to start playing better. It has to become natural. It is, I'm starting to feel that more and more. I actually felt really good today. But it has to come soon."
At 21, Kruger is not only the youngest player on the Eagles roster, he's the fourth youngest player in the entire league. But will the Eagles give Kruger the benefit of the doubt when paring down the roster because of his youth?
"I can't think like that," Kruger said. "I have to be able to play well fast. There can't be a learning curve for me. That might not be acceptable for them. I have to keep playing well, keep working hard."
Six spots after the Eagles selected Kruger with the 212nd overall pick in April's NFL Draft, the team pulled the trigger on cornerback Jordan Poyer. Having been eschewed a scholarship by Oregon (before Chip Kelly became Oregon head coach) and after undergoing a few Civil War battles while starring at Oregon State, Poyer was well aware of his new head coach when he was drafted by the Eagles. Unfortunately, following the initial rookie camp, Poyer was barred from getting to know life in the NFL until Training Camp.
Under NCAA rules, the 22-year-old Poyer was unable to attend any of the spring minicamps or Organized Team Activities because of Oregon State's late graduation date. So when he reported for camp on July 22, Poyer had a lot of catching up to do.
"I think any time any rookie comes in, whether it's OTAs or Training Camp, I think it takes a little bit of adjustment time coming from college to the NFL," Poyer said, "getting used to the speed of the game, getting used to the technique that they want you playing."
The initial testing out process that should have taken place for Poyer in the spring was then moved into the first few weeks of Training Camp. So it's no wonder that Poyer suffered from a bit of information overload when the pads first went on.
"It was kind of tough starting up, getting into everything again, everything was coming fast," said Poyer. "At first, you're hearing the call, you have to think about, 'OK, where's your help? What leverage are you in?' And then you have to think about the technique that you have to play. Now, you hear the call, I've been here a month, you hear the call you already know, 'I'm doing this, this, this, I'm jamming him here.' It just comes a lot faster."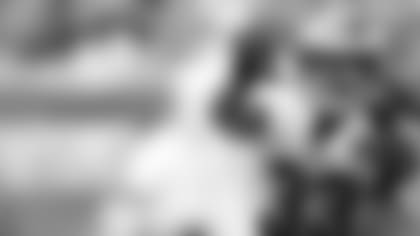 As Poyer was jockeying for position in a secondary riddled with competition, he underwent an instructive "Welcome to the NFL" moment when the New England Patriots showed up for a series of dual practices.
"The toughest adjustment for a corner at this level is probably just that everybody's fast. You can't sleep on one receiver, routes are a lot more about timing," Poyer said. "You saw Tom Brady out here, he was throwing balls before the guys were even out of their breaks and they would turn around and the ball was right there. The timing is a lot better, the windows, you have to close the windows a lot, you have to be a lot closer to the receiver than in college. The quarterbacks have stronger arms. You have to just fight for the ball."
Poyer says he remained behind the curve in the preseason opener against those Patriots. But somewhere between the first preseason game and the second, the light switched on for the former All-American.
Rod Perry is a former NFL defensive backs coach and was a two-time Pro Bowler during his 10 year career as a cornerback from 1975-1984. Perry was Poyer's position coach at Oregon State during Poyer's senior season and the two have remained close. In fact, Perry is the one who helped prepare Poyer for Training Camp during the latter's absence from the spring workouts. The two continue to talk often, usually for about 45 minutes at a time. Perry grills Poyer about certain coverages and offers his own advice. He also serves as a sounding board on which Poyer can mark his progress.
"That's one thing, I was talking to my coach back home about, I was like, 'Coach, the first game I didn't feel like I was myself, like I played in college,'" Poyer said. "I told him after the second game, I was like, 'Coach, it's just football. It's just football. I've slowed the game down. It's the same game you've been playing since you were a little kid.' I think that's one of the biggest things to understand, it's just football. There are guys out there who are good. You're going to get beat but you're going to make plays too. Try to prevent the plays of getting beat and be able to make plays."
Following the second preseason game, Poyer began to flash more in practice. He had two interceptions during the team's open practice immediately following that game and the rookie believes he's now settling in to the speed of the game. The nature of the cornerback position, meanwhile, is such that Poyer could see rapid improvement. Now that he's begun to gain confidence, more is sure to follow.
"Playing with confidence is a huge key to being a successful defensive player, or any player," Poyer said. "If you're able to just play with confidence, I think that's something that it takes time to get, especially coming in as a rookie. But it's coming. It's coming. I'm just trying to get better every single day, but playing with confidence is definitely one of the biggest keys to being successful."
While Kruger and Poyer have shown significant improvement throughout Training Camp, no Eagles rookie has come further over the last month than offensive tackle Michael Bamiro. Like Poyer, Bamiro missed out on the spring practices. Unlike Poyer, Bamiro had no idea at the time that he would be joining an NFL Training Camp in the months ahead.
Ruled ineligible by the NCAA because he attended the University of Pittsburgh for one year before transferring to play football at Stony Brook, despite never having played at Pittsburgh, Bamiro became an NFL free agent in the early summer. Once considered a mid- to late-round prospect for the 2014 NFL Draft, Bamiro chose to sign with the Eagles on July 16 – less than a week before the start of Training Camp.
And while Kruger may have struggled early on in Training Camp, Bamiro's first week or so was downright disheartening.
"I was struggling to stay afloat the first couple days. I'm not going to lie," Bamiro said. "It was tough to understand the concepts, the scheme and whatnot, and understand the new techniques that I had to learn as well.
"I kind of overestimated – I was like, 'I'm not going to be that bad.' But then, you know, you get here and it's like, 'Wow' … Guys are leaps and bounds ahead of me."
Consider everything to which Bamiro had to adapt. First, there was the suddenness of getting thrown into the NFL after he was planning on playing his senior season in college. Then there's the obvious jump in competition from Stony Brook to the NFL and the rigors of the practice pace under Kelly. Then there are the multitude of technique adjustments for a player who has not played that much football in his life. For instance, Bamiro had never played in a two-point stance before arriving at the NovaCare Complex.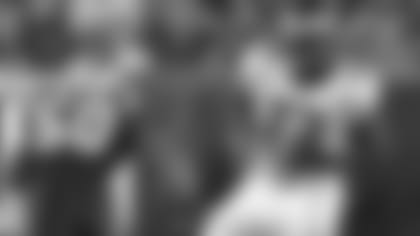 But all along, as he was grasping for air in the early days of camp, Bamiro's physical tools stood out. What exactly makes Bamiro a promising "project?"
"You can just see his size man," said offensive coaching assistant Tra Thomas, who worked closely with Bamiro before the rookie even signed with the Eagles. "And then whenever he can put his hands on someone, he can bend, his feet are getting better. It's just a matter of getting him to put it all together and keep it consistent. I think he definitely has a future. Hopefully he'll keep taking to it and then we'll keep going from there."
At 6-foot-8, 340 pounds, Bamiro certainly stands out on the practice field. Slowly, though, Bamiro began to stand out for more than just his sheer size. He estimates that about two weeks into camp, things began to click. That turned out to be more than an empty feeling, as Bamiro was moved up the depth chart from third-team right tackle to second-team right tackle.
"It's a great feeling to see myself move up and be able to play with higher level players on the field," Bamiro said. "There was a big point where I was like, 'Alright, now I understand what I can do now.' Now it's just getting better at the technique. I know the plays. I've learned the plays. They've taught me very well. So now it's just getting better at the technique.
"After the first week of drowning and trying to surface up for air, I finally got it."
Bamiro's rapid improvement allows onlookers to dream about just how high his proverbial ceiling is. If the 22-year-old can make such long strides over the course of a month, how good can he be a year or two down the road?
"Big Mike's one of those guys who's really improved," said offensive coordinator Pat Shurmur. "He came in and you didn't know what to expect and he's one of the guys that each day does something to make you say, 'Wow, this guy's got a chance to be something some day.'"
"He's come a long way," said Thomas. "He's definitely getting a lot better and he still has a ways to go. He's still young. I think it's going to continue to pan out. Every day is always a new learning process and trying to bring a little bit more out of him."
The development of Bamiro, Poyer and Kruger over the course of the summer is a testament to just how long an NFL Training Camp can be. But their stories also serve as evidence of the benefit of what can be accomplished under the daily guidance of the Eagles coaching staff. Still, the credit for improvement goes, in the end, to the individual.  
"There's always doubt when you first get there, but it's keeping your mind set on getting better at one thing each and every day," Bamiro said. "You have to continually get better at something. Each and every single practice, make sure that I'm a better player the next day."