On Sunday, the Eagles released 12 players, trimming the roster down to 76 players. The roster must be reduced to 75 by Tuesday afternoon, and then reduced again to 53 by Saturday evening. Though it is certainly not a pleasant experience, all 32 NFL teams must decide on whom to keep and whom to let go. Two current Eagles - Julian Vandervelde and Trevard Lindley - have been down the road of being released by the very same team in recent years. Now back with the team, Vandervelde and Lindley are doing everything that they can to prove that they belong.
Vandervelde was drafted by the Eagles in the fifth round of the 2011 NFL Draft. After playing as a reserve offensive lineman in his rookie season, he was released as part of the final roster cutdown in 2012 before ultimately spending the season on Tampa Bay's practice squad. Vandervelde understands the business side of the game, but says that being released remains painful nonetheless.
"This is a brutal, cut-throat business sometimes," Vandervelde said after Monday's open practice. "The numbers game is a game that everyone has to play sooner or later. Being a player on the bubble, that grim reaper kind of hangs over your shoulder for about 24 hours after that last (preseason) game. It's definitely not fun, but you've got to shed a positive light on everything. There's a silver lining to everything.
"All you can really do is come out here and put as much good game film out as you can while you can, get a great experience, and if you don't make the team, hopefully someone else gives you another shot. I was fortunate enough to make it back here to Philadelphia where I want to be. I have another chance here and I'm trying to make the most of it, but that fear, that dread of being cut, that always kind of hangs over your head as long as you're on the bubble."
Cornerback Trevard Lindley knows all about having another chance with a team. Drafted in 2010 out of the University of Kentucky, Lindley has been released twice by the Eagles, yet he has continued to work hard enough to find ways back onto the roster. In both instances, Lindley was released after the roster had been cut down to 53 players. According to Lindley, the security that is felt when the roster is initially set is quickly washed away.
"It's kind of crazy," Lindley said. "You just hope another team will call you in and give you a chance. The first year (I was released) going into the first game and last year it was the day after, but hopefully this year I don't get that call."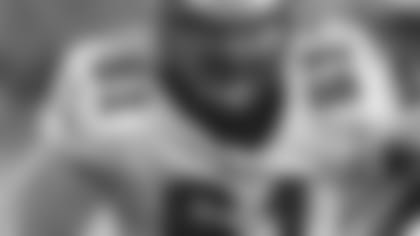 With injuries to Curtis Marsh and Brandon Hughes, along with Eddie Whitley being waived, Lindley now finds himself in prime position to earn a backup cornerback job. With that in mind, he wants to go out on Thursday night and put out his best effort against the New York Jets.
"You hate to see your teammates go down, but in sports it's the next man up," Lindley said. "I just have to go out and show up every play and play to the best of my ability and hope the team likes it. … Hopefully the coaches like it and I can stay on the team. I just have to show up on Thursday night and play at my best."
For players who find themselves on the roster bubble, the deadline for roster cuts looms large. Some players, like Vandervelde, do all that they can to try to avoid their cell phones as the deadline approaches, while players like Lindley feel that if it's going to happen, there is no way to avoid it.
"I'm afraid of the cell phone," admitted Vandervelde, who has worked in as the second-team center. "I'm a guy who carries my cell phone on me 24/7. Normally when my girlfriend calls me or a friend texts me I'm excited, but man that 24 hours is just - you dread it. You want to leave the cell phone off or at home and pretend that it's not there, but you have to face the reality of the situation. You have to be ready for whatever comes.
"You just can't think about it leading up to it. These last couple of preseason games are the most important ones. This is where we make our biggest strides and our biggest gains, especially as backups. I think it's necessary for us to forget about that entire process, and forget that it happens."
Once a player is cut, there is a period of uncertainty that directly follows the news. Will he ever play again with an NFL team? Who will take a shot with him? According to Lindley and Vandervelde, the only thing a player can do at that time is stay positive and think about what they can do to get better.
"You just hope that you get a try on another team," Lindley said. "If another team picks you up and you get a chance like that, you have to show up every play."
"You always have to keep hoping and keep thinking that you're going to play the game," Vandervelde explained. "This is the game that we love. This is the life that we've chosen to lead. We've chosen to make a career out of it, so you never think that it's the end. You stay positive and you keep working.
"For me, it was just a couple of hours before I was picked up (last year). You fill that time by considering ways that you can improve yourself. We stay at a hotel that has a weight room. If you can't come in and use the complex's weight room, then you go there. You just keep building, keep improving and hopefully you can help someone else's team if you can't help them here."
Head coach Chip Kelly said that he met individually with all of the players who were cut on Sunday to inform them of the team's plans. Though it's much tougher for the player to receive the news, it's no easy task for a head coach to tell someone that they are out of a job. Everyone knows that this is part of the game, but that doesn't make it any easier to experience.
"It's a brutal process no matter what you do, but I think that there are ways to make it less cold," Vandervelde explained. "I know Andy (Reid) was also a guy that liked to talk to every player that was cut, and it certainly does humanize the process, (showing) that we're not just kind of cattle on the chopping block. Everyone is a person and everyone has family and everyone's just trying to provide for that family. While it is a rough situation, I think that there are ways to humanize it, and I think that Chip has done a really good job of doing that."
Lindley and Vandervelde both know what it feels like to be released from a team after playing just one season there. However, they also know what it feels like to be given a second chance, which is something that both players are taking full advantage of.
"I just have to go out there when I get my chance," Lindley said. "I go out there and play to the best of my ability."
"I always felt like Philadelphia was my home," Vandervelde said. "This is the place where I got my first shot. I'm grateful to the team, the city and to the fans. There are players here that are friends to me, that I really like and respect. For me, I always felt like I was going to have a chance to come back, and having this second chance now, I think I'm making the most out of everything that I've gotten and hopefully it works out."