A lot of ingredients must come together at the right time for a team to rip off five straight wins and hit its stride during the stretch run of the regular season - talent, tactical superiority, camaraderie, luck. But perhaps the most understated ingredient is unselfishness -- the willingness of a group full of supremely confident and proud athletes to set aside their egos and eschew personal achievements in pursuit of an ultimate goal.
"That's what you need on a team," quarterback Nick Foles said. "That's what you need for success, unselfish players who care more about the team than they do about their own glory. That's what you saw on Sunday."
It all starts with the head coach.
Think about Sunday's win over the Detroit Lions and the spark that finally got the juggernaut going. The offense had struggled mightily through nearly 40 minutes, barely able to string together a single sustained drive - and the only sustained drive ended with an incomplete pass from Foles to wide receiver Riley Cooper in the end zone on fourth down. Then, midway through the third quarter, cornerback Cary Williams approached Kelly with a suggestion to attack the Lions secondary over the top since he knew how difficult it was for cornerbacks to keep their footing in the eight inches of snow. Kelly, to his credit, took Williams' advice and soon thereafter starting calling for plays to air it out. On the ensuing drive, Foles connected on a 44-yard pass play to Cooper that opened the floodgates.
In a sport where mostly everyone wants the ball, blocking, especially by players at the so-called skill positions, has become an unappreciated and lost art. Not so for Kelly's Eagles. Far too often last season, receivers were completely disinterested in blocking downfield and hindered running back LeSean McCoy from breaking huge gains. At Oregon, Kelly had a very simple policy for his receivers -- if they didn't block, they weren't going to get the ball either. These Eagles receivers need no such impetus. They love blocking and do it regardless of whether or not they are targeted in the pass game.
"I think it's an unselfish group," offensive coordinator Pat Shurmur said of the receivers. "We're really all focused on trying to win the game. We like to run the football, and there are a lot of times when we choose to hand it off or it might be a zone read and all of a sudden the ball is out on the perimeter. They all have opportunities to catch balls, so they all have to block for each other. It's a very unselfish group. They just like to try to contribute any way possible."
So many plays from the Snow Bowl stick out from a blocking effort standpoint. Go back to McCoy's second touchdown run, for example. As he exploded through the hole and got to the second level, he approached wide receiver Jason Avant, who was engaged in blocking cornerback Bill Bentley. Avant latched on and drove him to the ground. In the process, he also blocked Bentley into safety Louis Delmas to help spring McCoy the final 45 yards. After the game, it was revealed that Avant, like Williams, went to Kelly mid-game with a suggestion - run the ball my way.
"We focus on winning games," Avant said. "We're in a position, a spot where we want to be in. We are just trying to do everything we can to win. As a receiver you want to catch passes, but if you don't get that opportunity there are other ways you can help. If that's what we need to do in order to win, I'll do it.
"At the University of Michigan, if you couldn't block, you couldn't play. That was just the bottom line. It didn't matter how good you were. With the explosive players that we have here, you know if you get in the way a little bit a guy can take it the distance."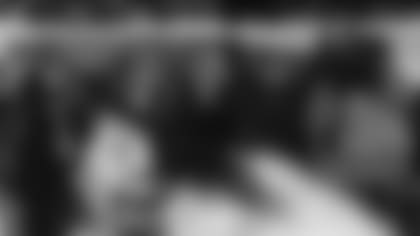 Leading the way as a blocker among the receivers is Brent Celek, one of the team's most visible and impactful veteran leaders who has thrived under Kelly. His catch and yardage numbers might be lower than in years past, but his effect on the offense has perhaps never been greater. Celek is a coach's dream, from the way he prepares to how he dutifully handles his responsibilities on the field. He does all the little things that enable plays to flourish and has developed into one of the NFL's best blocking tight ends. What happened at the end of the Lions game was a microcosm of what Celek's all about as a player. He slid down instead of scoring an easy touchdown - "You guys know I don't care about touchdowns," Celek said - so as to allow the Eagles to run out the rest of the clock. Otherwise, they would have had to cover a kick and then put the defense out one last time, all of which presented unnecessary risk and could have potentially led to injury.
"We, as coaches, see what he does as a player and teammate behind the scenes," Shurmur said in adulation of Celek. "We appreciate what he does on plays where he might not get production. He's an outstanding blocker, he's an unselfish player as he displayed the other night. He just does all the things that you want as coach. He's embraced all the changes that have happened and how we do things, preparing to practice, our training sessions. He's bought into everything, and if you ask him, he feels and sees the benefits of what we're doing, and we just appreciate him for all those things."
"That's the kind of player Brent is," said Todd Herremans, who has been teammates with Celek for seven seasons. "He always puts the team first and before his own accolades. I think that he realizes that for us to be successful, he's going to have to get in there and get dirty, and I think he's done a great job of it. … He never complains about it. He always just figures what's best for the team is what's going to happen."
While the receivers certainly deserve a ton of credit for embracing the dirty work and getting involved in blocking, don't forget about where it all starts - with the offensive line, whose primary job is to block. Foles certainly hasn't. After some early struggles, Jason Peters, Evan Mathis, Jason Kelce, Herremans and Lane Johnson have meshed as a unit and keep getting stronger with each game. Their stellar play is an integral component in what the Eagles have been able to accomplish since the calendar turned to November. Those guys up front set the tone for the entire offense and are the most unselfish group of all.
"Linemen never get the glory, but they're always the ones who are the key to any offense," Foles said. "You have to have a great offensive line, and we have a great offensive line with great guys. And Brent at the end, what he did was awesome.
"That's why this environment here, the people we have here, is a great place to work. It's an honor to be a Philadelphia Eagle because of the people (that are here). We hold each other accountable and we play for each other. That's why I love it here."