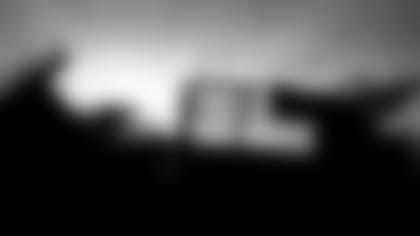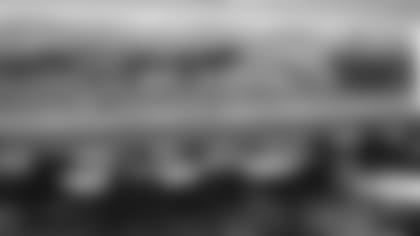 There's more to love at the NovaCare Complex following renovations to the cafeteria over the summer to enhance the overall experience at mealtime.
The much-anticipated cafeteria was unveiled after five weeks of construction in July and Eagles staff members were welcomed by bright lights and a beautiful new Eagles Head logo spanning the entire wall, along with a panorama shot of Eagles Training Camp at the NovaCare Complex. The artwork represents the Eagles' organization and life at the office, where everyone spends the majority of their days working toward one common goal.
Since players and staff members work long hours at the NovaCare Complex, it is important that the cafeteria fit everyone's needs.
In terms of layout, the cafeteria was reconfigured into three different areas – the drink station, seating area for 108 people and food stations – to maximize efficiency. Instead of having one long line for food, there are now different food stations such as the smoothie bar, salad bar, sandwich bar and grill, all run by Executive Chef Jason Buniak. 
Buniak and his staff of 11 employees arrive to work at 5 AM every morning to begin preparing meals, and often times don't leave until 5 PM or later. With three meals a day, the cafeteria staff is kept busy with cooking, set up and clean up. The real task, however, comes before the food is even made.
Creating each week's menu is a demanding job for Buniak, and he begins planning meals a week in advance.
"Three meals a day is tough because there are only so many proteins you can use," said Buniak.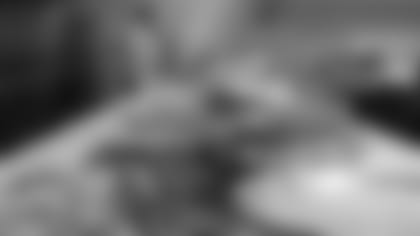 When preparing meals, Buniak and his staff are always conscious of what they are serving to Eagles employees and especially the athletes. It is important to serve healthy foods that will help the players leading up to gameday, and Buniak focuses on hitting all of the essentials through the variation of menu items.
In order to do all of this cooking, some brand new equipment was added to the NovaCare Complex kitchen. Buniak and his staff can now use a six-foot flat-top grill to cook, instead of the previous three-foot grill. Blenders were also added at the smoothie bar, which has become one of the most popular stations. 
The food isn't the only impressive feature of the NovaCare Cafeteria, however.
Take a walk over to the drink station and you will see a variety of options from bottled beverages, Dunkin' Donuts coffee and everyone's favorite, the new Coca-Cola Freestyle Machine with 70 different flavor options.
On top of these new food and beverage additions, staff members and players can now enjoy their meals on all new counter tops. There is also a new Bose sound system that plays through the speakers, along with five high-definition Panasonic television sets. There's even a Santander Bank ATM for added convenience.
It is easy to see why the renovations to the NovaCare Complex cafeteria have allowed it to become one of the main attractions in the facility. As everyone's home away from home, the cafeteria makes long days at work even easier for staff members and players in the midst of all the hustle and bustle of football season.