These days, DeSean Jackson has plenty of reasons to be excited. Along with his teammates, he is a part of a new era of Eagles football. April 1 marked the beginning of the offseason conditioning program, and two days in, Jackson likes what he sees from the new regime.
"I definitely think it's a fresh start," Jackson said Wednesday. "Throughout this period of time, every day we come in here, we have to grind hard together and build that camaraderie, because there are a lot of new faces. Chip Kelly is the head man up here. A lot is different, but at the same time, I think it's good because change is good sometimes. We're looking forward to the opportunity."
It's a nice change for Jackson, who missed the final five games of last season with fractured ribs. It was a disappointing end to a disappointing season for one of the team's biggest playmakers, who was having one of the best seasons of his career. He finished the year with 700 receiving yards and two touchdowns. But this year, Jackson said "the sky's the limit."
"Last year, getting hurt towards the end of the year, fracturing two of my ribs, (was) very disappointing in regards to the season we were having last year," he said. "I felt I was still able to help this team and do things I'm able to do to really spark the energy; spark my teammates and just having energy out there and just being myself."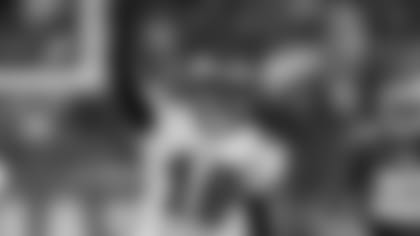 To date, Eagles fans can only guess how exactly the offense will look. Jackson figures to be a major part of it, and the receiver is still learning how he'll be used. He sees himself as a do-everything type – a player who can catch create mismatches anywhere on the field. How does that translate into Kelly's offense? Jackson's cousin may provide some answers.
Oregon running back De'Anthony Thomas is similar to the Eagles' most electrifying wideout. Like Jackson, Thomas is a blazingly fast player capable of scoring from anywhere on the field. Jackson believes he can be that type of player this season.
"To see some of the things he did at Oregon, to myself, is a blessing," Jackson said. "That offensive style was almost like cheating to myself to see that. I said, 'Man, he's cheating. He's getting all these touchdowns, scoring all these points; doing all this crazy stuff.' I'm just excited to hopefully be able to fit into that role and see how it turns out for myself."
Jackson is also planning to help outside of the offense. Early in his career, he was known as one of the most feared punt returners in the league. This season, Jackson is hoping to see more time in that role.
"Hopefully it'll be a little more than last year, being able to get back there and make some big time punt returns go off," he said. "It's still early, so we're still trying to figure out everything … They're getting us in shape, running us hard because, once again, that up-tempo offense is going to be kind of new to us. So we have to get ourselves in that shape and get ready to be out there firing every play."
It's the dawn of a new day for the Eagles, and Jackson is right in the thick of things. With last year's disappointments in the rear view, Jackson is fired up for the new season and the opportunity to be a part of a new, exciting offense in Philadelphia.
"I think this year coming up, with Chip coming in with the style of play of his offense, it's really going to help me out a lot, just because I'm going to be able to get certain looks; get the ball in my hands, do different things we weren't doing in the past five years," Jackson said. "That's going to be an exciting time for myself, but at the same time, I'm going to have to be fully in shape and fully prepared and fully ready.
DeSean Jackson's Miracle at the New Meadowlands is one of the Final Four left in the NFL.com/Bracketology vote to determine the greatest play in NFL history.