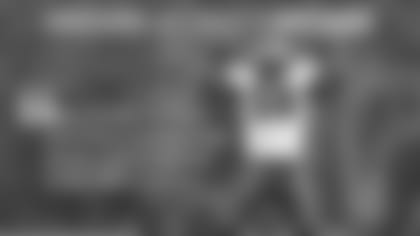 ](http://www.philadelphiaeagles.com/fanzone/official-2014-pro-bowl.html)
"Stay humble. Work hard."
Those are the two most important lessons linebacker DeMeco Ryans learned growing up in the small city of Bessemer, Ala. Ryans didn't have to look any further than his own home to realize the true meaning of those words. The youngest of four children, Ryans was raised in a single-parent home as his mother, Martha, worked multiple jobs to keep the house afloat.
"She never complained," Ryans said. "That keeps me humble. That keeps me grounded."
After a stellar career at the University of Alabama, Ryans was a second-round pick of the Houston Texans in 2006 and was able to fulfill a dream of his.
"I was able to give my mom a break," he said. "One of the best feelings I had was when I could tell her she could relax now."
Ryans erupted onto the NFL scene earning NFL Defensive Rookie of the Year honors. One year later, Ryans was named a starter for the Pro Bowl, earned second-team All-Pro honors and team MVP accolades. At 6-foot-1, 247 pounds, Ryans was tough and physical. He was cerebral and instinctive. Nicknamed Cap, Ryans was the quarterback of the defense — the ultimate team leader. In Houston, Ryans had built a reputation as one of the preeminent middle linebackers in all of football. That all changed on October 17, 2010 when he ruptured his Achilles tendon and began an arduous road to recovery. Ryans returned in 2011, but in addition to rehab he was adjusting to a new defensive scheme. Wade Phillips was hired to transform the Texans from a 4-3 front to a 3-4 scheme. Ryans started all 16 games and played his best football down the stretch when Houston reached the divisional round of the postseason, but he was not quite back to his dominant self.
The Texans had a tough decision to make. Brian Cushing emerged as a playmaker alongside of Ryans. Could Houston afford, from a salary cap standpoint, to keep both Ryans and Cushing on the roster? On March 20, 2012, Ryans was getting ready to get some lunch when he received a phone call from Houston general manager Rick Smith. Ryans knew it wasn't to socialize. Smith wanted to tell Ryans, the franchise's all-time leader in tackles, in person that he was being traded to Philadelphia.
The Eagles valued everything that Ryans stood for and wanted him to be the leader of the defense that had been missing.
"Those are culture-setters when you have guys like that — great character, hard working ... You're talking about a really productive player and a really hard worker — smart football player as well," said general manager Howie Roseman.
Ryans called the trade a "rebirth ... a fresh start." Ryans was outstanding for the Eagles in his first season registering 148 tackles, the second-highest total of his career. Ryans also had 16 tackles for loss, the most ever since the franchise started tracking the stat in 1999. Ryans' play was noticed as he was named to Sports Illustrated's midseason All-Pro team, but the team's overall struggles overshadowed any individual accomplishments.
When the Eagles overhauled the coaching staff this past offseason, they decided to transition from a 4-3 front to a 3-4 front. Would Ryans, the best defensive player on the team in 2012, be marginalized by the move? Not at all. It's almost been the exact opposite.
"I never had any doubts," Ryans explained. "I was coming off of injury (in 2011) and I knew that I still had work to put in to get back to where I wanted to be. I never had a doubt in my mind that I could get back to this level. This is the level I was playing at. It's fun to be back at that level and being able to make plays. It's not just me making plays by myself. It all starts with the guys in front of me."
Ryans leads the Eagles once again with 133 tackles in only 11 games. He also has two sacks and two interceptions. His play has generated plenty of buzz around the football world.
"If this guy is not in the Pro Bowl this year, that is a great injustice," said former Pro Bowl linebacker and now SportsRadio 94WIP host Ike Reese. "I don't know if there is a better middle linebacker who is playing as solid as this guy has played over the last month.
"DeMeco was known for being a playmaker back in his days at Houston when he was a lot younger. You get a little bit older and you don't expect the middle linebacker to be around the football when it's in the air as much, but this speaks to the intelligence of DeMeco Ryans in there as a middle linebacker. It doesn't just happenthat he found himself around the football. He's always in the area of where the ball is at, and that's the mark of an intelligent football player, and guys like that last a long time in this league, and we're lucky to have DeMeco Ryans here as our middle linebacker and the captain of this defense."
Ryans is not only leading on the field, but off of it as well. He is the one who leads the pre-game huddles. He has guided the transition on defense while overseeing the development of young and upcoming players like fellow inside linebacker Mychal Kendricks.
"It's a blessing to go into the meeting room where your most productive guy up to this day, one of the best leaders on the football team is one of your older guys whose bought into everything we've asked our players to do whether it's the sports science program, the new defense," inside linebackers coach Rick Minter said. "He has a presence about him so he commands a room. He's very presidential if you will when he walks into a room. He's not a boisterous guy. He's not a loud guy. That's another quality about him because when he speaks, people listen."
The on-field performance will also gain more attention this year because the Eagles are back in the playoff hunt. The Eagles entered the bye week on a three-game winning streak and in sole possession of first place in the NFC East. The defense has not allowed an opponent to score more than 21 points in a game since the end of September, a seven-game streak which currently is the longest in the league.
"DeMeco is the leader of our defense and he's having an outstanding Pro Bowl year and we couldn't be happier  with everything DeMeco is doing for us," said defensive coordinator Bill Davis, "between tackle to tackle, he is a force. Whether it's crossing routes he's knocking out or the inside run game that he's tackling. We couldn't be happier with DeMeco."
For Ryans, it all goes back to those two simple lessons he learned watching his mother struggle to provide for her family: Stay humble. Work hard. It's a simple blueprint, but Ryans is now back where he was before the injury — one of the dominant middle linebackers in the entire NFL.