It didn't take very much hitting in drills for Joe Mays to inherit a nickname – "The Headbuster." In fact, after just one full-contact practice you could consider him officially dubbed.
During Saturday's initial full-contact session in training camp, the rookie linebacker from North Dakota State fell under the watchful eye of his position mate, Omar Gaither. And there's just one thing about Gaither – if he thinks it, everyone within 500 feet of him will know it, too.
"Look at that Joe Mays. He's a headbuster!" Gaither yelled from the sidelines during Saturday's morning session, after Mays laid out a particularly crunching blow.
Fighting to back up Stewart Bradley in the middle, Mays knows he not only has to make every play, he's got to make sure people know he's making plays.
The nickname, he said, won't hurt.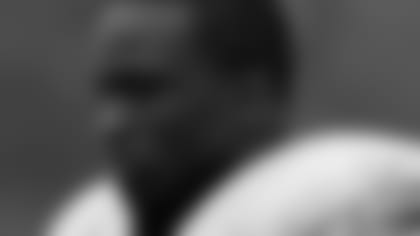 LB Joe Mays
"If you make some plays out here, they give you nicknames," Mays said. "It's cool, there's nothing wrong with that."
Through just two days of contact practices, his first as a pro, Mays has been a specimen of tenacity. He relished hitting - and being hit - during linebacker warm-up drills. He's a frequent resident in pile-ups between the hashes. He even got into a bit of a tussle with fullback Jed Collins, which wide receiver Bam Childress needed to break up.
That little fight? Gaither loved it. The fans enjoyed it.
"I just run and hit," Mays said. "Those are the things that I love to do most."
And it's not just that fiery vigor that's made people take some double-takes. It's nothing but running and hitting, from a linebacker who's generously listed at 5-11?
That familiar stocky frame? Even that gap-toothed grin?
Who, exactly, is this guy?
If "Headbuster" doesn't stick, "Bullet" might. After all, his resemblances to former Eagles linebacker Keith Adams are more than passing.
"I'm so short and my build is the same as his," Mays said. "That's who I'm compared to."
Mays will take whatever he can get. Anything that turns some heads in his direction. In his position, he needs them.
No doubt about it, Mays is a fledgling. As a sixth-round project from a middle-of-nowhere school, one would be hard-pressed to find Mays on many pre-draft scouting sites. He knows his coverage and his hands have to improve. He has yet to pick up the defense perfectly. But he did something to get noticed prior to the draft.
So now, he's doing what's asked of him.
"We had some good plays from Joe Mays," defensive coordinator Jim Johnson said Sunday. "Every day is a little bit different, but that's why we put him in that situation. He's got a chance."
A chance, right now, is all Mays can ask for. He knows he's not guaranteed a spot on the 53-man roster. But in a defense that's stressing the importance of forcing more turnovers, Johnson knows the value of a heavy hitter.
"Every day is the same day," Mays said. "You're going to come out, you're going to go live, you're going to hit every day.
"I think I'm doing some good things out there. There are some things that I need to work on. … And if I keep it up at this pace, I'm going to make the team."