This was David Acord's draft moment.
Every NFL prospect who is fortunate enough to be selected can vividly recall what it was like to receive the phone call to have the opportunity to play professional football.
Only Acord is not a football player. He is a sound designer and re-recording mixer in the entertainment industry.
Acord was driving across the San Francisco-Oakland Bay Bridge on his way home while working on the sequel to The Matrix in 2001 when he received the call that would forever change his life. The Glasgow, Delaware native and University of Delaware graduate was being offered the opportunity to join Skywalker Sound, the preeminent audio production facility that was founded back in 1975 when the original Star Wars movie was being created.
"It was one of the best phone calls I ever had," Acord recalls. "I was so excited."
For years, Acord pelted Skywalker Sound with résumés. Every few months, he would learn of someone new to fire off another copy to until the perseverance paid off. It was a dream come true for Acord, but a prudent move on Skywalker Sound's part as well.
Here is just a sample of the projects Acord has worked on since his arrival: Star Wars: Episode II, Attack of the Clones; The Incredibles, Star Wars: Episode III, Revenge of the Sith; Cars, Guardians of the Galaxy, Star Wars: Rebels, Star Wars: The Clone Wars, Star Wars: Episode VII - The Force Awakens, and Rogue One: A Star Wars Story.
Acord teamed up with Matthew Wood, who was on the other end of that momentous phone call, to earn an Academy Award nomination for Best Achievement in Sound Editing for The Force Awakens.
"It was completely surreal," Acord says of the recognition. "Even when I think about it now, it was such a humbling honor to be recognized in that way. The Star Wars franchise has been a part of my life now for a long time. That's going to be a tough one to top."
Acord recalls seeing the original Star Wars movie back in 1977 at a drive-thru movie theater in Elkton, Maryland. He always dreamed of getting into the movie business, but not as an actor or a director. He was inspired by the work of Ray Harryhausen, an Academy Award-winning visual effects creator and the inventor of stop-motion model animation. Acord also played a plethora of musical instruments and was in a number of bands in high school and college. He readily admits that it would have made more sense to follow in the footsteps of the legendary composer John Williams, but was intrigued by the technical aspects of the art.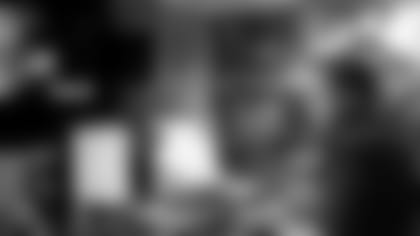 He graduated college and was selling cameras at the Christiana Mall near Wilmington, Delaware in 1995 when an internship opened up on the set of Bruce Willis' movie, Twelve Monkeys, which was being filmed in Philadelphia. Acord worked in the art department. He parlayed that initial gig into a part-time special effects job on the set which was only supposed to last for two weeks, but continued to expand. During that time, he networked with the sound crew and formed the relationships he needed to continue making a living in the industry.
Acord spent most of the time on the road over the next two years, so he decided to make the move to Los Angeles. Now living with his wife, Barbara, in San Francisco, he never forgot about his roots which include his love for the Eagles. As a kid, Acord says that he was a huge fan of Harold Carmichael and Wilbert Montgomery. Now, he loves to watch No. 87 move the chains on offense.
"I'm a Brent Celek guy," says Acord, who was at the 2016 season opener against Cleveland in September. "He's all about the team. He's an unselfish dude. He's an extremely hard worker. He's a tough as nails. He's a completely versatile player. He's a Philadelphia guy."
Acord is such a fan of Celek that he incorporated him into The Force Awakens. Acord voiced Teedo, a reptile-like scavenger, and had to create a language for it. He was learning Thai for an upcoming vacation, so he mixed in some phrases in Thai and sprinkled in the names of some Eagles players. Celek and Fletcher, for Fletcher Cox, made it into the final version of the movie.
There was another Eagles surprise in Rogue One: A Star Wars Story, the former No. 1 movie in America which earned over $800 million worldwide. When Cassian Andor and Jyn Erso are looking for Saw Gerrera in Jedha City, the script called for a prayer chant in the background. Acord decided to voice it. So, he took the Eagles' fight song, Fly, Eagles, Fly, and translated it to Esperanto, a universal language which was created in the late 1800s but never took hold. You can hear, "Hit 'em low, hit 'em high," albeit in a different dialect in the movie.
For Rogue One, Acord began work on the movie in May and his role was completed by October. He says that the final cut of movies are finished just two to three weeks before the release date. Acord doesn't have time to reflect on his previous work. He quickly transitioned to being the supervising sound editor and sound designer on the Marvel sequel Guardians of the Galaxy Vol. 2, which comes out this Friday.
Acord has never forgotten the hard work it took to get in this position, nor has he taken for granted the dream job that started with a phone call over 15 years ago. His advice to those who are pursuing their passion is simple.
"Be ready to deliver and to give your best effort. There's a lot that can happen for you with persistence and a good attitude," Acord says. "I know that it's really corny, but it's true."