Mychal Kendricks was off to a good start, to say the least.
The linebacker began his third season as an Eagle with 20 tackles and a sack in the first seven quarters of the year. He was a disruptive force in the Eagles' 3-4 defense, the whirlwind athlete next to the composed thinker in fellow linebacker DeMeco Ryans.
Then, on September 15, Kendricks left the team's second game in Indianapolis with a calf injury. He didn't see game action for five weeks.
In his first game back, Kendricks' coaches limited his participation. He didn't start the game at his inside linebacker position, and recorded just three tackles, his lowest output of the season. It was clear he was itching to get back into his full role.
Once he returned in full force, Kendricks made full use of his playing time with a newfound appreciation for his work.
"You can watch film all you want, but there's nothing like being in there," Kendricks explained at his locker earlier this week. He said he wishes more than anything that he had those four games back.
But it was just a minor detail. What began as a promising season has turned into something else entirely, a breakout season for Kendricks.
And he's just getting started.
Kendricks: The Total Package
In nine games this season, Kendricks has piled up 84 tackles. He's replaced his three interceptions from last season with three forced fumbles this year, and has picked up three sacks, just one shy of last year's total.
Against Russell Wilson and the Seattle Seahawks, Kendricks was tasked with spying the elusive quarterback on most plays, watching his moves and ensuring he couldn't break big runs after dropping back against the Eagles' defense. Wilson broke just one big run against the Eagles, a 23-yard touchdown run when Kendricks wasn't responsible. Outside of that touchdown, Wilson, who entered the game averaging 7.2 yards per attempt, was limited to 25 yards on nine rushing attempts.
Kendricks' speed and athleticism was in full display that windswept Sunday evening, flying all over the field in the black jersey and pants, a darting nightmare for Wilson.
On one play, Wilson rolled out to the right and appeared to have good room to run up the Eagles' sideline. In the blink of an eye, Kendricks flashed from the middle of the field and blocked Wilson's path, mirroring the quarterback's movements until he brought him down for a gain of 1 yard. Kendricks finished the game with a team-high 16 tackles.
Inside linebackers coach Rick Minter was enthused by what he saw from his young linebacker against a talented foe like Wilson. The philosophy behind the spy, Minter explained, is that the defensive line goes at the offensive line and "eats" against the opposing offensive line, while the spy linebacker, in this case Kendricks, waits and delays, watching the quarterback. Then the spy linebacker picks up the scraps.
"The scraps were Russell Wilson running around," Minter said. "Mychal played well. He did a great job running him down, forcing his hand. Never really sacked him, but had a bunch of hurries and pressures and kept the game in the balance for us."
Kendricks' ability to use his speed in space has been a strength all season, something he's done better than almost any other linebacker in the league. His combination of speed and athleticism makes him valuable in all facets of the linebacker position, and defensive coordinator Bill Davis has relished having such a unique athlete at his disposal this year.
"Mychal's strength is his versatility," Davis said. "He's very sound in coverage. He can run. He changes direction. You can put him in different matchups, and even if he had to go with a receiver for a down you'd say, 'Okay, Mychal can run with that.' He has that kind of athleticism and speed, so that makes you happy, and then his pass rush has really grown in the last few weeks.
"The total package of Mychal Kendricks is why you can use him in spies, or in coverage, or in blitz, or in zone. He's a very well-rounded athlete."
"There's Only One Mychal Kendricks"
Just one week after Kendricks returned from his injury against the Cardinals, more devastating news hit the Eagles' linebacker unit. DeMeco Ryans suffered a torn Achilles tendon against the Houston Texans, and was out for the season.
Ryans was the quarterback of the linebackers and of the defense; as the MIKE linebacker, Ryans was the man in the middle who made the calls. When he was ruled out for the year, fans may have assumed that Kendricks would take that role over. Instead, linebackers Casey Matthews and Emmanuel Acho took over the MIKE position on a rotational basis, leaving Kendricks to his position as the WILL linebacker.
The ability of Matthews and Acho to slide seamlessly into Ryans' position, Minter explained, has allowed Kendricks to flourish.
"Mychal's been allowed to stay Mychal," Minter said, "which is better. It's better when someone is calm around him and can just let him play and make the plays."
It's important that the Eagles let Mychal stay Mychal, as Davis explained during the week leading up to this week's game, because of how talented he is at doing just that.
There are tons of linebackers in the NFL. There's only one Mychal Kendricks.
"I think linebackers in the NFL really fall into two categories," Davis said. "You've got the speed athletes who you feel comfortable putting in coverage, and then you've got the bigger bodies that you say, 'Hey, I love when they run between the tackles on this guy and he can handle that.'
"I think Mychal's right in between those two, and I think that's what makes him unique. He's got the speed and athleticism and the burst, but he also holds his own very well inside the tackles when the run game comes."
By keeping Kendricks at the WILL linebacker position, Minter and Davis have enabled Kendricks to play his game, as he did against Wilson and the Seahawks in Week 14. He didn't bog himself down with worrying about aligning the front or arranging the other linebackers. He got the call from Matthews, and then went out and played his game.
"Kendricks needs to do as little as possible from a mental point of view and just cut it loose and play," Minter explained, "and that's what the fans are seeing now. Unbelievably athletically talented. As much as explosiveness as any linebacker I've ever been around."
In Ryans' absence, an injury that could have been debilitating to the team just a year ago, Kendricks has stepped up and played up to the challenge. Kendricks has made Ryans proud with the job he's done in his absence.
"He's making a lot of big-time plays, running guys down, letting his instincts take over," Ryans said of Kendricks. "He's doing a good job."
"I stay tough on him," Ryans continued, with a laugh, "so there's always that room for improvement."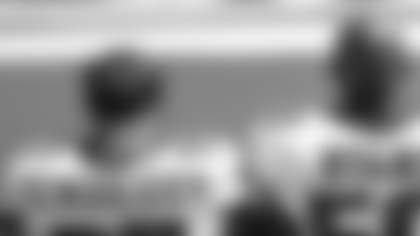 Ryans Stays Tough On Kendricks
Ryans doesn't have to stay tough on Kendricks for the young linebacker to remember there's much more for him to achieve. He does a good job of reminding himself.
Standing at his locker, three days before facing the Cowboys, Kendricks was reserved. He had a little bit of a cold, and wanted to keep his distance, intent on not spreading it any further.
When asked about his performance against Seattle, it was clear Kendricks didn't let the numbers or the praise get to his head.
"I feel like I played alright," he said, unwrapping tape from his wrists following the team's training session. "I felt like I could do a lot better. I know I could. I watched the film.
"You never play as good as you think you do, and you never suck as bad as you think you do. I swear, and you can ask anybody in here if that's true."
Rookie linebacker Marcus Smith II nodded his head in agreement at the locker next to Kendricks.
"It's not even about trying. You try to have a perfect game," Kendricks continued. "You try to have the best game of your life, and you swear you did. And then you go back like, 'Wow, I messed up a lot.'"
In the next minute, Kendricks admitted that he thought this has been the best season of his career, but it was clear he's far from content with where his game is. Despite leading the team in tackles against the Seahawks and limiting one of the most versatile weapons in the league, the third-year linebacker has already matured to the point where he understands that one game is just that - one game.
He still has things he wants to achieve for the betterment of the team. There were lessons to be learned, even in his excellent performance in Week 14. So Kendricks watched the tape, learned, and is ready for another chance to improve.
"I feel like there's more improvement to be had, in all aspects of my game. I'm not perfect. I'm far from it.
"I wish I would've had those four games back, because I wonder how far along I would've been. Because you get better every game."
"He would be a dog," he said, earnestly. "He would be a dog if he hadn't missed those four games. A dog."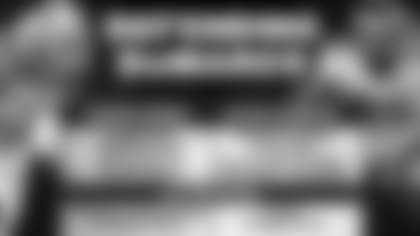 The Best Linebacker In The League?
Kendricks understands what he lost in those four games, but his coaches and his teammates have seen what he's become in the seven games since - one of the most dynamic defenders in the NFL, with a ceiling that's almost too high to perceive.
Minter was adamant about the young linebacker's progress and the strides that he's made in the past year.
"He's grown, on and off the field, and he's only gotten better," Minter said. And, he added, Kendricks is only in his third year in the league.
"That's not really deep into a career of a guy who's got so much ability," Minter said. "This guy's future is very unlimited."
Matthews, who has been in midnight green since 2011, couldn't agree more with Minter's assessment of what Kendricks can achieve. Matthews has played alongside the dynamic backer in chunks all season, and has seen nothing but brilliance.
"He's a tremendous athlete, and he's a football player, really," Matthews said. "Any time he sees the ball he just goes 110 percent, full speed on every play.
"If he had Ryans' knowledge of the defense, I think he could be the best linebacker in the league."
Ryans possesses that knowledge of the defense because, at 30 years old, he's spent nine seasons in the NFL. That kind of knowledge comes from experience and time.
Right now, Kendricks possesses unreal athleticism. With time, he'll gain that understanding of the defense. And when those two pair up, Kendricks will show the Eagles what he can really do.
As Kendricks has shown this season, he learns and improves at a rapid pace. For Eagles fans, that can only mean good things in the near future. For the rest of the NFL?
Well, they'd better watch out.