What Is The Fix For The Eagles' Run Defense?
The Eagles learned lessons in NFC East losses to Washington and to New York, specifically that they have to be better against power running games. While the Bengals have not run the ball effectively this season, upcoming tests against Baltimore, Arizona and then the Giants again will provide an opportunity for this defense to show it can make adjustments and man up against physical offensive fronts.
Be sure that coordinator Jim Johnson and his assistants are busy at work trying to find solutions. The personnel isn't going to change, unless the Eagles decide to go deeper into their rotation along the defensive line and at linebacker. Surely, every man is responsible for having problems against the Giants offensive front, but the effort was there on Sunday night. The results were simply not what the Eagles wanted.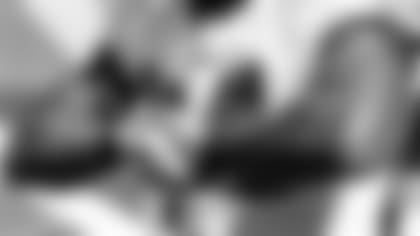 Is it time to see more of DE Chris Clemons in the rotation along the defensive line?
So what do they do? The suggestion here would be to continue to be aggressive and attack the line of scrimmage. The Eagles need better play from everyone on the defense, and no doubt Johnson is going to make subtle adjustments to get after the Bengals, restore some confidence and coach up his players just that little bit more to make a difference.
Maybe it is time to see what somebody like Chris Clemons can do with more snaps, just to give Juqua Parker and some of the ends a little bit of rest. Or maybe the Eagles will tinker with a "heavy" package of up front – like they used to do with Darwin Walker – and hope to match up better against the more physical fronts they will play in December.
More likely, though, it will come down to man vs. man. The Eagles need to win more battles with what they have. They have to find a spark, generate some momentum and get it rolling.
It is not an easy fix. Do not think that anyone believes it is. The Eagles are very concerned about their run defense, and they know that other teams are going to try to muscle them around.
The Eagles have been here before, namely in 2006 when Indianapolis trampled the defense and the Eagles were left for dead. But they resurrected the season and rode into the playoffs with five straight December wins. They are going to need more of that magic this time around.