Can The Defense Keep Up The Pressure?
Nine sacks shared by six players isn't going to happen every week. It may not even happen again this season for the Eagles. But if they can pressure quarterbacks, starting this week with Kyle Orton, and force them into mistakes, the defense can be very, very successful.
Chicago runs the ball 60 percent of the time, and rookie back Matt Forte is off to an excellent start. He is a big, powerful back who has shown great maturity so early in his career. The Bears want to establish him right away.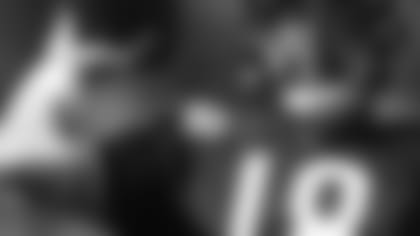 QB Kyle Orton has to be aware of the Eagles sinister pass rush
But the Eagles know Forte is coming. They lead the league in run defense, permitting an obscene 45 yards per game. The Eagles also lead the league in sacks per pass play, a figure inflated by Sunday's sack explosion.
Chicago lost receivers Muhsin Muhammad and Bernard Berrian during free agency and the Bears expect Devin Hester to be a huge factor down the field. He didn't play on Sunday because of a rib injury and is a question mark for this week. Against Tampa Bay, Brandon Lloyd emerged as the go-to threat. He and tight end Greg Olsen are the most consistent pass catchers on the team.
Chicago blew double-digit leads in losing to Carolina and Tampa Bay. They know they have to be more efficient in the fourth quarter, and that means running the football better and converting more third downs. Orton is much better than he was a few years ago when he was a starter, and he beat out Rex Grossman fair and square in the team's quarterback competition.
The Eagles must win the battle at the line of scrimmage and then free up their linebackers to make plays on the ball. They are likely to blitz, although maybe not to the extent they went after Ben Roethlisberger on Sunday. Jim Johnson will have a good plan in place as the Eagles look to shut down the Bears offense and set up Donovan McNabb and Co. for some short fields and relatively easy points.