All season long, the Philadelphia Eagles have been teaming up with their food service provider ARAMARK to help feed Philadelphia's hungry.
With the assistance of Rock and Wrap It Up!, an anti-poverty think tank, the Eagles have been able to collect more than 11,000 hot dogs, 3,500 slices of pizza, 4,900 cheesesteaks and 1,800 hamburgers. The food is picked up following each home game and taken to the Philadelphia Brotherhood Rescue Mission where it is given out to homeless and hungry residents in North Philadelphia.
Volunteers from the Brotherhood Rescue Mission and Rock and Wrap It Up! visit Lincoln Financial Field to collect boxes of food that were prepared but remained unsold after games.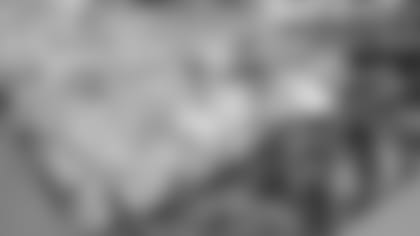 Just some of the food that was donated after Sunday's win over Dallas
The food donation also is a part of the team's Go Green environmental program which aims to reduce its carbon footprint. By giving away the leftover food, the team is saving hundreds of pounds of food from entering area landfills.
"Teaming up with the Eagles and Rock and Wrap It Up! is part of our commitment to giving back to Philadelphia," said Brian Hastings, Regional Director of Operations, ARAMARK. "Through this program, we're able to provide local organizations, such as the Rescue Mission, with meals for its residents, while working with the Eagles to further reduce our impact on the environment."
Rock and Wrap It Up! is a non-profit association that is devoted to creating innovative greening solutions to hunger and poverty. Rock and Wrap It Up! has been able to recover food from schools, concerts, federal buildings and sporting events across the country.
"Rock and Wrap It Up! and the Eagles Sports Wrap! program are proud to feed the hungry of Philadelphia," said Rock and Wrap It Up! CEO and Founder Syd Mandelbaum. "Using food recovery tactics, we are helping to keep food out of landfills, furthering our mutual desire to green our environment."