L.J. Smith understands why people might be questioning him. As the Eagles' tight end didn't make the trip to Seattle last week because of a concussion he suffered against Atlanta, his backup, Brent Celek, busted out.
Celek's 131 yards receiving against the Seahawks topped Smith's total for the entire season, and he was the recipient of Donovan McNabb's two longest passes of the day.
But, earlier this week, head coach Andy Reid said Smith is definitely still his starter at tight end, and that he believes Smith to be a Pro Bowl talent. Still, is Smith looking over his shoulder?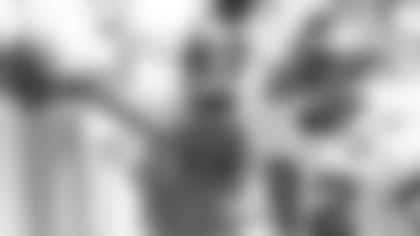 Say what you want, but Smith is a legit threat in the red zone
"Coach looks at film 20 hours a day, you know what I'm saying?" Smith said. "There's been a couple of opportunities that, sometimes, the ball is not there or whatever, or the defense … just gave different looks."
Smith said he's healthy now and has been cleared to play against the Giants on Sunday night at Lincoln Financial Field. And, barring a setback from Smith or any of his offensive teammates, it will mark the first time McNabb has all of his major weapons healthy and ready to play at the same time this season.
An area where Smith's presence might certainly be noticed in the red zone, where the Eagles are still struggling for touchdowns rather than field goals. Not only is Smith a big target for McNabb in that region, but Reid has consistently touted Smith's blocking as superior to Celek's. In Smith's absence, the Eagles have tried some different things, like sending guard Todd Herremans out as an eligible receiver. Some have worked – Herremans scored a touchdown in Seattle – some have not.
With Smith, at least, things can get back to basics down there. And just weeks ago, Smith was clamoring for more opportunities to get the ball in his hands.
And with Celek's success, who knows? Maybe Smith will get some of those looks.
"I'm always motivated," Smith said. "I was happy for (Celek). I can remember my second year, I had a big game in Atlanta. It's different looks that defenses give you and he took advantage of it, and I was happy for him, contrary to what you might believe."
Smith said it's all about making the best of what he's got now. So to him, there's little better than getting the chance to make an impactful return against New York, a division rival that requires little push to get up for, a game where his contributions could be magnified.
"Giants week. Big week," Smith said. "It's a game that actually means something, not just a rival game."