As the Eagles' defense was introduced, only free safety Brian Dawkins received a bigger ovation than Asante Samuel, the big-play free agent the team added back in February.
And, as advertised, Samuel wasted little time. He broke up the first pass attempt of the game, an intermediate throw to Muhsin Muhammad on a second-and-11 play.
""It was real good, not only for your confidence but just to be out there for your team and show them that you are who you are; you make plays,"" Samuel said. ""That's what I do, that's what I'm here to do and that's what they brought me here to do."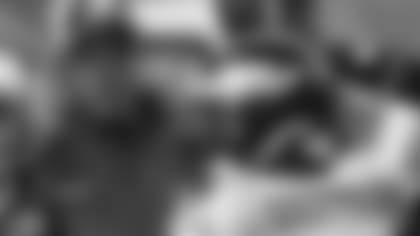 CB Lito Sheppard
One play later, Lito Sheppard joined Samuel and Sheldon Brown as defensive coordinator Jim Johnson dialed up his nickel package.
A similar rotation followed as the trio made things difficult for Carolina quarterback Jake Delhomme, who completed 9 of 14 passes for 54 yards.
"It's a good situation there," said head coach Andy Reid.
Late in the first half, Sheppard displayed some playmaking ability of his own when he swooped in and grabbed a Delhomme pass that grazed the fingertips of Panthers tight end Jeff King.
The offense could not capitalize, but Sheppard's interception thwarted a two-minute drive by Delhomme and the Panthers.
"I want to continue to go out and do my job and do it to the best and at a high level," said Sheppard, who has not let his bid for new contract inhibit his play on the football field.
The question of whether the three starting-caliber cornerbacks could co-exist in the team's secondary was answered – at least for one game – with a resounding yes.
"We were definitely comfortable," Samuel said. "I don't know what the gameplan is for the season. We're rotating and that's fine. Everybody is happy and everybody is doing a good job.
"I think it's something positive for the team, definitely. I think it will be one of the stronger points of the team, I definitely do."