Sydney Brown, a first-team All-Big Ten safety from the University of Illinois, was chosen by the Eagles in the third round, No. 66 overall, of the 2023 NFL Draft.
"I'm excited to work with the veteran players in the organization and help this team in games," Brown said shortly after being selected on Friday night.
Here's what you need to know about the new defensive back:
1. A native of London, Ontario, Canada, he arrives in Philadelphia with a proven nose for the ball. During his senior season, Brown led the Big Ten with six interceptions.
In the November 26 game against Northwestern, Brown recorded two picks, one which he returned 39 yards for a touchdown. He also scored in the same quarter on a 53-yard fumble return, helping the Illini snap a three-game losing streak with the 41-3 victory.
Brown's effort was recognized by being named as the Walter Camp National Defensive Player of the Week, Bednarik Award National Player of the Week, Senior Bowl Player of the Week, and Big Ten Defensive Player of the Week.
2. An Honorable Mention All-Big Ten Conference safety in 2021, Brown led Illinois with 81 tackles and forced two fumbles.
3. In five seasons at Illinois, Brown started in 50 of the 51 games he played in, and finished with 319 tackles, 186 solo, and 10 interceptions.
4. Brown's identical twin brother, Chase, who was born two minutes earlier on March 21, 2000, was a running back at Illinois after transferring from Western Michigan, and finished second in the nation in 2022 with 1,643 yards. A Doak Walker Award finalist, given to college football's top running back, he is also expected to be selected during the 2023 NFL Draft, which would make them just the sixth set of twins taken in the same draft over the past 40 years.
"First and foremost, great kid. He has a great work ethic and that shows on the field. You're talking about a kid who was a five-year starter at a Power 5 school and he performed at a high level and every year, this year, specifically, he took the ball away. He's violent. He's a good all-around player. They did a little bit of everything with him at Illinois, which is exciting and that matches the intellect of the player. He played split safety, he played in the post, he played in the box, they blitzed him, they man him up in the slot – they did a lot of things with him. That versatility is a plus and, at the end of the day, you can't ever have enough guys who can do more.
"He's powerful. When he closes ground, he can uncoil from his hips. He can really put force through contact and for a guy who is built the way he is (5-foot-10, 194 pounds), he can really move his feet. I spent a lot of time with him in the pre-draft process. He did very well in interviews, he was very sharp, he came across as very diligent, he's very time-oriented. He's a wonderful young man who is a really great teammate who was a captain this year. He loves the game and you can see that on tape." – Chuck Walls, Eagles director of player personnel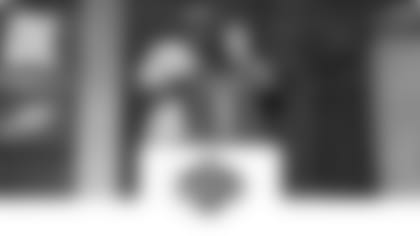 Eagles Draft Sweepstakes
Enter to win an autographed item from our 2023 NFL First Round Pick.