April is Autism Awareness Month and even though the next Eagles game isn't until later this year, it's going to be a festive, tailgate-like atmosphere in West Chester, Pennsylvania, this Sunday.
Patrick Dolan, the Eagles' Vice President of Football Technology, and his Team Dolan are hosting a fundraiser at the Barnaby's in West Chester this Sunday from 2-6 PM with proceeds raised going to the Eagles Autism Challenge. Eagles Legends Connor Barwin and Brent Celek, SWOOP, and the Eagles Cheerleaders will be on hand. Tickets are $50 and there will be one-of-a-kind autographed items available to win in a raffle.
"Everybody wants to do their part to try to help raise money for the Eagles Autism Challenge," Dolan said. "The goal is to raise money and have a good time."
Dolan took over in 2013 for Mike Dougherty, a pioneer who set the standard for the entire league as the Eagles' video director for nearly 40 years. A member of the NFL Video Directors Committee, Dolan and his team oversee all of the video and data that the coaches and the personnel and the players use to either evaluate, teach, or learn, make adjustments, and – in Dolan's words – "hopefully win championships." Dolan previously served as the assistant video director of the Pittsburgh Steelers from 1988-98 then started the video operations for the expansion Cleveland Browns in 1998 and remained on their staff through 2009.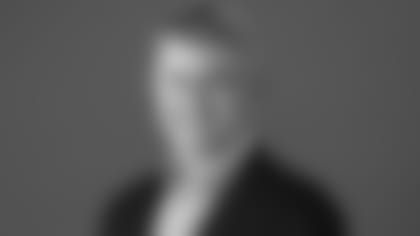 From the time Dolan arrived in Philadelphia, he immediately saw how winning off the field was vitally important for Chairman and CEO Jeffrey Lurie. Through the Eagles Autism Challenge, Dolan sees an opportunity to impact a cause that personally matters not only to Lurie, but to so many people in the Philadelphia region. His wife, Tammy, worked as a life skills coach for the Chester County Intermediate Unit and since the launch of the Eagles Autism Challenge in 2017 he has learned of so many people who deal with the challenges of the disorder.
"It's great to help something that means so much to him because he gives us all kinds of great resources to try and be successful," Dolan said of Lurie. "Jeffrey sets the tempo with everything that we do. When you have that personal connection, like he does, you feel that. It's no different than when you see how much he cares about the team and the organization. Having worked for three organizations, three really good football organizations, you talk to people, you talk to your peers around the NFL, and you get a sense of how good we really have it from an ownership perspective. I like to say that I'm blessed because of my experiences."
Even if you can't make it to the Barnaby's in West Chester this Sunday, there is still time to register for the Eagles Autism Challenge as the fifth annual ride, run, walk event takes place on May 21! Save 50% on registration by using the code April22 at checkout.