On September 16, 2012, I tore the medial collateral ligament and partially tore the anterior cruciate ligament in my right knee while blocking on a run play in the third quarter of our win over the Baltimore Ravens. I knew something bad had happened, but I didn't understand the severity of it until the trainers came out on the field and they started doing their tests. I was very frustrated, but it wasn't like it was the end of the world. It really didn't sink in for probably another two to three weeks. Before this, I never had a serious injury. It was scary for sure. They're doing a major surgery that's going to affect your career. You don't quite know how it's going to turn out afterwards.
The biggest struggle is that when you're not out on the field you're unable to help your teammates. They're losing and you want to be out there to help them. You can't understand why things aren't going well. You just feel like you're letting down teammates.
Once the surgery was done, my mindset was that the rehab would replace my football season. That had better be your mindset, otherwise it's going to be a very difficult rehab. I was fortunate here to have some great guys to work with. Dr. Peter DeLuca performed the surgery and he did a great job on it, so I was able to get started really quickly. The training staff, led by head athletic trainer Chris Peduzzi and Joe O'Pella, who handled my rehab, made sure that I didn't lose a lot of muscle strength in my leg. The first couple of months are usually the toughest.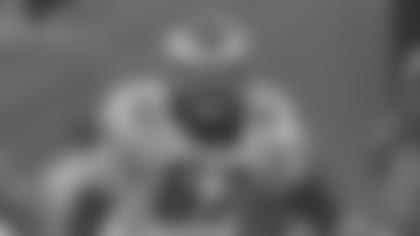 At first, rehab was just trying to get the knee to bend and move again. Between the atrophy, swelling and scar tissue from surgery, you can't really bend or straighten it at all without it locking up on you. They put you on a bike just to move your leg so that you're breaking up that scar tissue and forcing it to bend. They put you up against the wall and push your knee in as far as they can, and that's the worst part, trying to get that flexion back because it hurts. You have to break the scar tissue up. That's the only way to do it.
It's a bit of a change-up for sure going from being a professional athlete to someone who can't walk on his own. You're on crutches for a little bit and then you're in a brace for an extended period of time, so it's frustrating. It definitely changes a lot of your day-to-day activities.
There's a transition when you go from running to contact drills and actual football. You can do as much running and strength conditioning and squatting and all of that stuff, but you really don't know how it's going to feel to hit somebody until you do it. You can't really trust it until you do it, but once you go out there and do it for the first couple of times, it comes back just like it was before.
Over a year removed from the injury, I am at a point where I don't worry about re-injuring it. I don't think about it when I'm on the field. I'm into the phase where I want to get the leg muscles as strong as I can, because they're still not where they were pre-surgery.
Every time you step on the field, something can happen. It's a dangerous game and it's a physical game.
*This feature appears in the upcoming edition of Gameday Magazine which will be available in Philadelphia-area ACME Supermarkets before the game, at Lincoln Financial Field on gameday and online later this week. *