The Giants used to measure just how good they were when they played against the Eagles.
But according to New York head coach Tom Coughlin, that's no longer the case.
Since they play in the ultra-competitive NFC East, the defending Super Bowl champions can't afford to measure themselves against one team.
They measure themselves against the best team in the division and since any of the four teams can win it, they have to compare themselves to everybody - not just one bitter rival like Philadelphia.
"It certainly is a tremendous rivalry and it always has been," Coughlin said. "I kind of prefer to talk about the division (as a whole) more than a couple of teams in the division. I think our division is really talented. (It's a) really outstanding, competitive division in which all four teams in the division are extremely gifted and capable."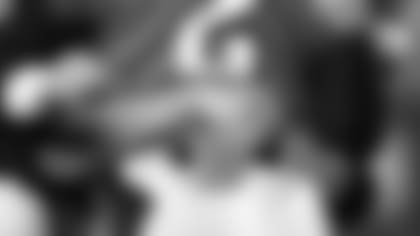 The last time an Eagles-Giants game was this big, David Akers won the game on a last-second field goal
The Giants, though, have jumped out to a two-game lead in the NFC East and their 7-1 record is tops in the conference. Right now, the rest of the division is trying to measure itself against New York.
That is starkly different than how it's been in the past.
"We always work off the team that is the divisional champion or is the gauge you need to look at to see what you have to do in order to improve and certainly that was the case with Philadelphia when I first came and it continues to be," Coughlin said. "They are an outstanding team. As I said, we have Washington and Dallas, which are outstanding teams as well."
The Giants record is particularly remarkable because of their success last season. New York has avoided the dreaded post-Super Bowl hangover so far and how they've done that has the rest of league's attention.
"There's not any one thing," Coughlin said. "Certainly you have to have the type of people, the type of individuals that look forward to the challenge and who can learn to deal with the fluff and still find the reality in it all. We just challenged our team to be the best we can be from the time we went to training camp and our guys pretty much have responded. I was always asked about all those words you don't ever want to talk about, you know, being satisfied and all that stuff. I just never saw it on this group of athletes.
The Giants have clearly risen to that challenge.
"We're playing very well," Coughlin said. "We've been able of late to get some turnovers which has really helped a lot. We've had good focus and whatever the objectives are for that particular game, we've been able to pretty much accomplish and with the exception of one game, we've played very well."
The Four Aces defense that defensive coordinator Steve Spagnuolo developed last year has played a large role in the Giants' success. The Eagles developed a similar package of their own, and Coughlin expects the rest of the league to follow suit.
"We are a league that studies the people that are successful," Coughlin said. "That's the way it's always been and that's the way it's done in the corporate world and so on and so forth. I think the idea of that situation, the pass situation as it is, utilizing people that are athletic and quick in various positions causing problems with double-teams and how people are going to slide, how they are going to count different individuals, so on and so forth. That's always been something that's created problems for offensive teams."