That's what three days of practices for the rookies is all about as the Eagles kick their rookie camp into high gear. It's an introduction of the way head coach Chip Kelly and the Philadelphia Eagles are going to conduct their football business. They reported to the NovaCare Complex on Thursday for meetings and uniform fittings and a general overview of the program, and then they spent the night at a nearby hotel studying their playbooks.
Friday was football day. Meetings. A walk-through practice. More meetings. A practice wearing helmets and shells and shorts and then more meetings and somewhere in there the players had time for some meals and good nutrition and more studying.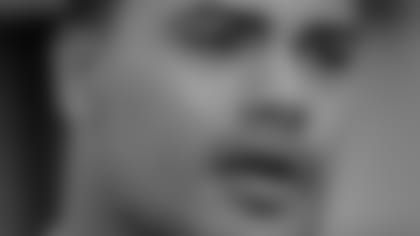 "It's a lot to learn," said running back Miguel Maysonet, who starred at Stony Brook last season, averaging more than 7 yards per rushing attempt on the way to 1,964 ground yards. "I don't know the offense. I'm just starting out. I know things move fast out here. You have to work to keep ahead of everything."
Maysonet will miss a week of Organized Team Activities as his Stony Brook class graduates, and then he will be back in Philadelphia working to catch up and try to make the roster. To suggest anything based on one day of practice is ludicrous, and nobody is pretending that a day like Friday will determine how these players fare.
He is approaching it the right way, though. Maysonet is going to challenge the depth chart after one of the greatest careers in FCS college football history. He ran for nearly 5,000 yards at Stony Brook, averaged nearly 7 yards per carry and scored a ridiculous 48 touchdowns in three seasons, including 21 in 2012.
"This is something entirely different, a new level, and I have to get used to that," he said.
If you want to know the truth, the media had only a peek at the rookies long after practice was over. Matt Barkley was poised and polished dealing with the media, and he was taller than anticipated. Wide receiver Ifeanyi Momah spoke about his progress in the last month working with the team, saying he feels he has knocked some rust off and that his quickness is where it was before he suffered a torn ACL in September of 2011 when he was at Boston College. Punter Brad Wing, another import from Australia, said he idolized former Eagles punter Sav Rocca (now in Washington) and wore Rocca's number in Australian Rules Football.
The rest of it was just talk. The rookies are learning on the go, and what they are being introduced to is an entirely different world of technique, of tempo, of schemes and of expectations. 
Next week begins full-team OTAs, so the rookies will at least have some working knowledge of how the process goes for these Eagles. They're going to be swimming as the coaches throw reams of information their way, and those who put in the time are the ones who will benefit the most.
What's most important now is that the Eagles organization works together to get everyone on the same page. There has been an enormous amount of change throughout the franchise's core. Steps being taken now are ones that are new to all.
So the level of excitement in the building is off the charts. The rookies feel it. It's impossible to ignore.
"It's a new situation for all of us, a new tempo," said Barkley. "There isn't a lot of time to digest this. You have to keep your head in the playbook and learn something new every day and stay patient and grow and become better each day."
That's the idea, kid. Nobody is holding hands as the blur that goes by is this weekend for rookies who really have no idea of what is ahead of them. It's fast now, is going to be faster when the veterans join in and will be at its fastest when training camp begins.
There is no slow-down lane.
"They expect you to jump right in and learn," said defensive end Joe Kruger. "That's the NFL. You need to be up to speed right away every day."