This is the natural progression in the NFL if you're fortunate enough to last into Year 6, that the new players on the team are going to look upon you as a guy who has been around the block a few times. Suddenly, you're in a locker room and you look around and what do you see? A bunch of puppies looking at you in a way that you recognize right away.
"I'm not that puppy anymore and it kills me because I know, but the other guys are starting to treat me like I'm the old head in the room," defensive end Josh Sweat says, laughing, "and I don't like it because we're relatively, like, close in age. I'm only a year older than most of them, but I get called the old head because, technically, I'm one of the oldest guys in there now."
Brandon Graham is the official OG of the defensive end room as he enters his 14th season in Philadelphia and there is no debate: He owns it and he relishes it and treasures that distinction. But here is Sweat, a veteran who is still only 26 years old (he turned 26 in March) and who is, combining the metrics of chronological age and league experience, in the very prime of his career.
"I feel great and I feel like the best is yet to come," said Sweat, a Pro Bowl player in 2021 who in 2022 turned it loose and reached 11 quarterback sacks while also setting career marks for total tackles (48), quarterback pressures (47), quarterback hits (23), and interceptions (1, that INT return for a touchdown at Dallas on Christmas Eve). "You figure this game out after you've been here for some time and you know what you have to do to take your game to new levels. I know it's being cliché, but it's about being consistent and building off what usually works for you. Whatever you're good at, just get better at that and stick with it."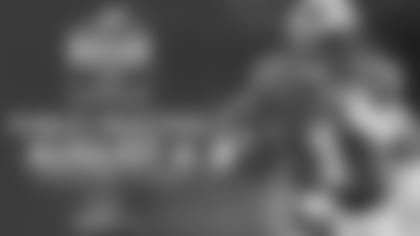 Training Camp public practice tickets are on sale now!
Join us on Sunday, August 6th at 7 PM for Eagles Training Camp Public Practice presented by Independence Blue Cross.
A fourth-round draft pick in 2018, Sweat climbed the ladder in steady steps. Learning from the likes of Graham, defensive tackle Fletcher Cox, and defensive end Derek Barnett on how to prepare, how to be productive in game situations, and how to do it week after week, Sweat is now a force. There is no denying what he does well – he's long and has a great get-off at the snap of the football to win the edge, and Sweat's ability to bend to reach the quarterback has given him a route for success. He knows what he does well and he keeps doing it.
Now he's a veteran and a key member of a defense that leads with its front seven. Sweat has always given great effort on and off the field – starting with Jim Schwartz as the defensive coordinator and then Jonathan Gannon and now Sean Desai.
"I actually feel younger now. I feel stronger," he said. "I work harder now and I know what to do when I'm on the field – I want to get out there and run around and be fast and not do a lot of thinking especially with the defenses that we've had. Every year you have to prove yourself even more and the goal is to get better every year. That gets harder because I'm improving every year. I feel threatened every year. People are coming at me.
"If I ever don't feel that way, it's going to be a problem. That won't happen because that's just not me. I can't coast. I can't take anything for granted. I'm a fourth-round draft pick. I had this injury (severe knee injury in high school that nearly cut his career short) that made me think maybe I wouldn't come back. This game means so much to me and I love it so much that I attack it every day.
"I have this chip on my shoulder. I feel like I should have made the Pro Bowl last year because I had my best season. No question. Now I'm back to be even better. I'm ready to ramp this up, get this going. I'm excited about this defense, about what we've got going here. It's going to be a lot of fun learning together and growing together."
He may be in his sixth season, but for Sweat – clearly one of the underrated ends in this league – it's still fresh, still vibrant.
"Everything is still coming naturally," he said. "I know the game, I know this team and everything about being an Eagle. I'm one of the leaders here and I'm happy to help these young guys just as other players have helped me. That's what we do around here."