It has been an antsy kind of wait, hasn't it? Kickoff on Sunday just can't come fast enough for those of us who love the Philadelphia Eagles and who have such great feelings about this football team and what is in place for 2023 and years to come. The focus is on New England and the right now and, oh, let's get this thing started.
Nobody talks any longer about the past and, frankly, the Eagles understand that the rest of the NFL doesn't care a bit about the 16 wins and the trip to Super Bowl LVII and even the national hype that surrounds this football team. Everyone is even-steven now with the same goal in mind, so it's time to prove it on the football field.
"We're just ready to go," defensive tackle Fletcher Cox said. "We're prepared and we are excited to put it together and play a football game. We have worked hard to get to this point. It's not nerves or anything like that. It's excitement and bringing everything and everybody together."
For those fans making the trip to Gillette Stadium, the Eagles green – Midnight or Classic Kelly Green – will be welcomed in a sea of Patriots fans. For those around the world – indeed, Eagles fans are everywhere – watching on their televisions, on their telephones, listening on the radio, following on the computer – we feel you. We hear you.
The 2023 opener is here, so what to expect?
"Always excited about when you're able to go out there and put your talents on display," Head Coach Nick Sirianni said. "So, I'm excited to see these guys play. I'm excited for them to go out there and put on a good performance. But we have to be on our stuff because we're playing a really talented and well-coached football team."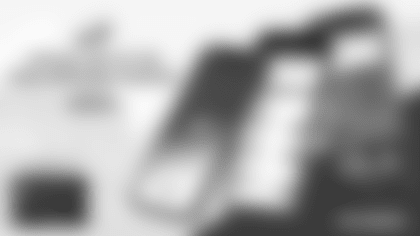 Eagles Mobile App
Stay connected with the Eagles anytime, anywhere with our official mobile app. Receive the latest news, watch behind-the-scenes videos, and more.
There are no more words. You know the matchups and the challenges and the idea that there will be curveballs thrown and adjustments made and it doesn't matter how it's done, just go out and get a W. The birth of another Eagles season is upon us, and we truly have to take a step back and be thankful for it. Howie Roseman and his staff have reloaded the roster, the organization has signed quarterback Jalen Hurts to a contract through 2028, the coaching staff has skillfully managed the tricky offseason and the summer, and here we are.
The Eagles expect to contend once again, a single step at a time.
"Long road, man," cornerback Darius Slay said. "I'm always in the moment and I'm enjoying this right here. This is fun."
Well spoken and very true. This is fun. This is Eagles football and this is a team that has a special connection, a unique blend of talents and personalities, and all kinds of possibilities. We are in the first step of an 18-week marathon and while emotions are going to be off the charts for all of us because, hey, that's what we do, the true test of a football team is its consistency, its ability to play at a high level. This 2023 schedule is all over the place and the Eagles have to keep their eyes on what is directly in front of them, and that's a New England team that is looking to get back on track after an 8-9 2022 season, that is honoring former quarterback Tom Brady at halftime, that is bound to have tricks up its sleeve to knock the Eagles off their mark.
But the Eagles aren't going to be swayed or intimidated or in any way back down. They had a taste of it last season and they want more this time around. A veteran team with promising youth included, the Eagles recognize that they must play "A" level games. They are a hunted team, and that is always fun.
We're counting down the hours, then. Does it seem like yesterday that the Eagles played in the Super Bowl or does it feel like forever ago? It is hard to say, but this much we know: The Eagles are back and they have their foot on the gas pedal, ready to rev this season up at the start.