The long week comes at a good time for the Eagles. They've got some work to do, given a change at the punter position and an injury at the nickel cornerback spot.
Head Coach Nick Sirianni explained on Monday the team's thinking as the Eagles signed punter Braden Mann to the practice squad, replacing Arryn Siposs, who was released. And Sirianni said he was "bummed" by the injury suffered by cornerback Avonte Maddox in Thursday night's win over Minnesota, although Sirianni did not provide a specific timetable for the injury.
• Said Sirianni on the decision to make the move at punter: "First of all, we thought that Arryn did a good job in Training Camp and was growing, so we felt like we were ready to go into the season with Arryn in there. And after two weeks, we decided we wanted to make a change. Arryn has been a great teammate to his teammates, he's been spot-on as a holder and right now at this particular time we thought that it was in the best interest of the team to move forward with Braden. Obviously, Braden's got tape out there (from his three seasons with the Jets) that we paid a lot of attention to, which got him into where we brought him into punt (in a tryout) and we liked his punts when he was here and his holds and everything. We're confident in the decision for that to happen.
"We've got a little bit of a longer week to make sure the operation is clean and so that is why the way it is right now."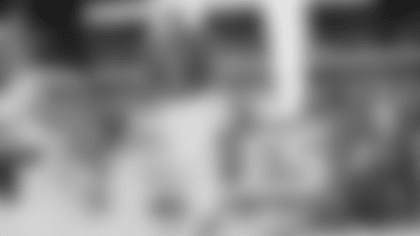 Duffy: How Brian Johnson and Jalen Hurts teamed up to beat the blitz
An All-22 look at how the offense used the run game and a vertical passing attack to put up 34 points on the Vikings.
• How will the Eagles replace Maddox, the sixth-year cornerback who was off to such a strong start in 2023?
"We feel like we have good options in-house to be able to move forward," Sirianni said. "That's why we cross-train people, whether that's a corner, whether that's a safety, whether that's the guys that play nickel. So, we feel like we have good options there. Are we going to miss Avonte? Of course we are. He's a great football player who has made a lot of plays here. I thought he was playing really good football, really being aggressive. (He) caused that fumble (against Minnesota), made some really good plays on the perimeter, so we'll miss his contributions both as a teammate and on the field. We like some of our options."
Sirianni did not confirm the status of Maddox's injury, just saying that "he will be out for a little bit."
Mario Goodrich replaced Maddox on Thursday night and played the first 37 defensive snaps of his NFL career and Josh Jobe started his first NFL game at outside cornerback for an injured James Bradberry (concussion) and "we were pleased with some of the things they did," Sirianni said. "Our confidence level is high with both of those guys. We're excited for their opportunity." The Eagles, who kept six cornerbacks on the initial 53-man roster, also have rookies Kelee Ringo and Eli Ricks prepared to play.
• Sirianni did not provide specific updates on the injury statuses of running back Kenneth Gainwell and safety Reed Blankenship, both of whom missed the game against the Vikings with rib injuries. Sirianni was asked, but is not permitted to comment, on Bradberry's recovery, who remains in concussion protocol after he left the season opener in New England with the injury. Sirianni did say, "I feel good that everyone has a chance to play" Monday night against Tampa Bay.