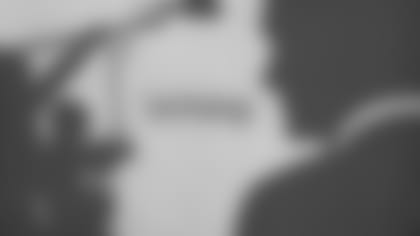 App users, click 'View In Browser' for the full experience
Through two weeks of Smithology, the article has created a little bit of poor luck. Offensive lineman Andrew Gardner was profiled in last week's edition, and a few days later a foot injury unfortunately ended his season.
But when one door closes in Smithology, another one opens. After Gardner was placed on the Injured Reserve list, Julian Vandervelde (featured in the first column) returned like the Ghost of Smithology Past. Since that first column dealt with his long list of career transactions with the Eagles, it was only fitting that I catch up with him this week upon his return.
"I don't know what the record is for a single player with a single team, but I'm going for it right now," said Vandervelde, who is up to 17 career transactions (15 with the Eagles). "Whatever it is, I'm going for it. So if anybody gets bored one day and wants to do the research to see how close I am to the record – no, I'm just happy to be back. I never left town.
"My agent texted me and was like 'Hey, by the way. … Just in case you didn't know, you're probably going to have to sign some stuff."
Word from inside the locker room is that the last time Vandervelde was released and then re-signed, defensive linemen Cedric Thornton had no idea that Vandervelde had gone. He was away from the team for 11 days.
"I think Ced knew I was gone (this time), but I don't know though," Vandervelde said. "Most people were like 'Hey, welcome back,' and he was like 'Hey, What's up?'"
Vandervelde has once again been given a different locker. This time, he's next to Beau Allen. No word as to whether or not the property value has gone down in this part of the locker room yet. He had to fill out all of the paperwork again, so it sounds like the stamp with his signature on it hasn't come to fruition yet. But, there was one step that the team's sports science department didn't need this time, and it was quite the relief for Vandervelde. "They didn't take my body fat this time," Vandervelde said. "They didn't do the body pinching, so I was really happy about that. That's like the worst part of coming back. The paperwork is fine, the medical stuff is fine, they know I'm healthy, but the worst part is that every time I come back they have to do the stupid body fat test. You just sit there with your shirt off and they pinch you in all of the worst places to pinch you. It's not like 'Hey, flex and we'll pinch'. No, it's 'Hey, give me your gut. I'm going to stick one finger in your belly button and another one out here and just grab this whole thing.' So to not have to do that about was a huge blessing."
I imagine Vandervelde taking the body comp test looks a little like this video ...
Forty-three men have held the title of Commander in Chief of this fine country, dating back the United States' formative years of the late 18th Century. As the Eagles get set to travel from a city that once was our nation's capital to the district that now holds that title, let's take a look at a few Eagles players who have shared both surnames and characteristics with some of our former presidents ...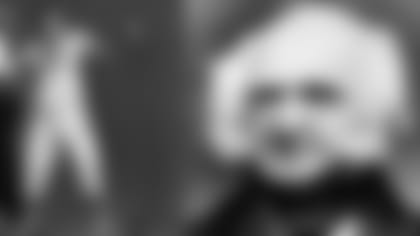 The first Eagle enshrined in the Pro Football Hall of Fame shares a name with our eighth president. Steve Van Buren was a five-time All-Pro selection, a four-time rushing champion and two-time NFL Champion, leading the Eagles to the title in 1948 and 1949. Arguably the greatest running back in team history, Van Buren broke the 1,000-yard plateau twice as an Eagle during a time in league history when offense wasn't as prevalent.
As our country's eighth president Martin Van Buren didn't leave much of a lasting legacy, but it's believed that the term "okay" derives from his 1840 campaign posters that read "Vote for O.K." which stood for Old Kinderhook, Van Buren's nickname (as he hailed from Kinderhook, New York), and of course, he also gave us the Van Buren Boys.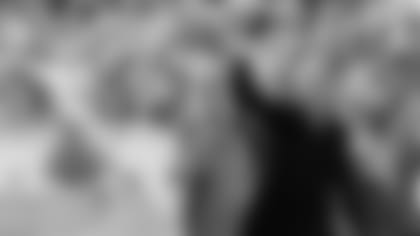 Buddy Ryan once said about Cris Carter "All he does is catch touchdowns." He caught 19 touchdown passes in three seasons with the Eagles, contributing a good amount to the Eagles' offense in the relatively small amount of time that he was here.
The case was much the same for Jimmy Carter, our 39th President. In just four years in office, Carter created the Departments of Education and Energy and put into motion a national energy policy, proving his #EaglesGoGreen mentality.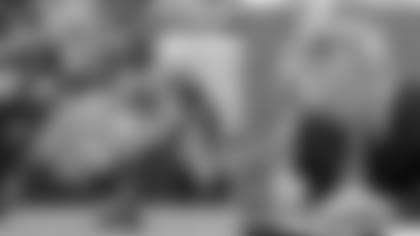 In a time of need in our country, Lyndon B. Johnson took office as our 36th President in 1963. His Great Society legislation helped America rise out of a troubling time, just as Lane Johnson's selection by the Eagles in the 2013 NFL Draft helped the team turn things around from 4-12 to 10-6 the next season.
Other notable connections include Dennis/William Henry/Benjamin Harrison, Chris/James K. Polk and Keith/Andrew Jackson.
Before the Eagles head to Washington, the land of our forefathers, I needed to know which of the Eagles had what it takes to be president if the time ever came. In order to ascertain which Eagles players might be fit for office, I conducted a poll of players to see which had presidential experience and which would make the best president of the locker room …
Donnie Jones: "I was never voted to be the president of anything."
Beau Allen: "I want to say that I've been the president of something, but nothing comes to mind. I was a First Mate. I went to Minnetonka (High School) in Minnesota, and we were the Skippers. So all of the seniors were like First Mates and we showed the freshmen around. I was a great senior leader First Mate. I've never been the president or anything … damn."
Vandervelde: "I know I have been …. Wait, yeah… yeah I was actually! What were we called? I had a group of friends in high school who were determined to rule the world at one point. I was the president of that group. My friend made a poster for it once, so I know we had a name. I might have been president of the speech team, but I can't remember. I held an office, but I'm not sure it was president.
"Oh, but I was a king of something. I was Spree King, which is our version of the Sadie Hawkins. We had a king and queen of that. You have to get elected to be named president, which means people have to think very highly of you. King you inherit generally, unless you take it by force … I did get a crown, and you weren't supposed to keep it, but I did."
Brandon Bair: "Why are you asking me this question? Oh I see. I never went into something as the president. That just sounds weird to me. I've been asked to be in leadership roles my whole life, but I've never been a president."
Bennie Logan: "I think I was the president in the 4-H Club in elementary school. It was a little after-school and outdoors thing. I think I ran it pretty well. I was a really good president."
Logan was then asked who in the locker room would make the best president.
"Me," Logan responded. "Because I'm organized. I'm strict. I know how to handle things, and I also like to have fun, so I'd do a good job as President of the United States or running the world. I think I would get a lot of people to vote for me. I'd have to campaign and get out there, but I think I'd earn a lot of votes."
And what would be his big campaign initiative?
When locker room neighbor Miles Austin was asked if he'd vote for Logan, he responded "100 percent."
When others around the locker room were asked who would make the best president of the locker room, the most common answers were Jason Peters, Connor Barwin, and the number one answer, DeMeco Ryans. The linebacker is the Eagles' NFLPA rep and he is without a doubt a strong leader both on and off of the field.