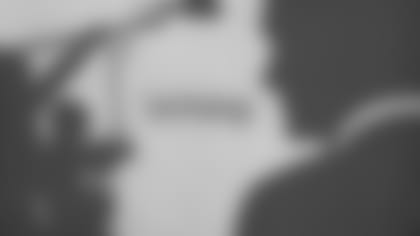 I'm not really sure, but I'll do my best to explain.
Each week, I'll be heading into the Eagles locker room to ask the tough questions that others won't -- the real hard-hitting stuff. There will be no softball questions in this feature, but rather, I will put my journalistic reporting skills on full display digging deep to get the answers that others can't.
Today in Smithology, our subject is one Julian Vandervelde. Drafted by the Eagles in the fifth round of the 2011 draft, the versatile offensive lineman has 15 entries listed under his career transactions. Let's take a quick look:
2011 Drafted by PHI in 5th round ... signed 4-year contract
8/31/12 Waived by PHI
9/1/12 Claimed by TB off waivers from PHI
9/3/12 Released by TB
9/5/12 Signed by TB to the practice squad
9/24/12 Released by TB from the practice squad
10/2/12 Signed by PHI to the practice squad
11/7/12 Signed by PHI from practice squad to active roster
11/12/12 Released by PHI
11/19/12 Signed by PHI to the practice squad
12/31/12 Re-signed by PHI
8/26/14 Waived/Injured by PHI
10/14/14 Re-signed by PHI
9/5/15 Waived by PHI
9/16/15 Signed by PHI to 1-year contract
All of these bumps in the road have surely weighed on the mind of this friendly Iowan. So let's go inside the mind of a man who has been doing everything he can to stick around as well as snow sticks to his beard …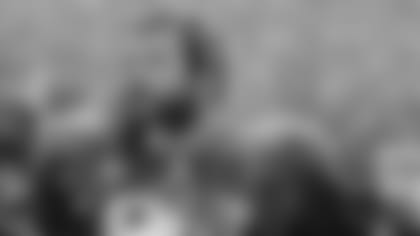 Alex Smith: First of all, welcome back.
Julian Vandervelde: Thank you, it's great to be here.
AS: You've gone through this a bunch of times with being released and coming back. Do you even pack any boxes at this point or …
JV: Every time I fully prepare myself to just never play football again. Like mentally, with the whole business, I took everything back home to Iowa, which is fine. Now I have to find a roommate and everything which is a fun living experience, getting to live with somebody new.
AS: Do you move around to different spots every time you come back or do you try to stay in the same area?
JV: I try to stay in the same area. I like being really close to work. The longer I can sleep in, the better. So if I live a half-hour away, that's a half-hour that I don't get to sleep if I live five minutes down the street. I like to keep it nice and close.
AS: Have you gotten a different locker every time you come back?
JV: Every time I've come back I've gotten a different locker.
JV: That's okay. I actually like it. I remember when Chip (Kelly) first got here, and they did the whole "Well it's not going to be all offensive line here. We're going to mix everybody up so that you're with new people." So I actually feel like I'm building even closer relationships because I get to be down there with Bennie (Logan) and Byron (Maxwell), then I come over here with my man Dennis Kelly (gives Kelly a big, friendly slap on the shoulder) and Brandon Bair is down there and Riley (Cooper) is here. I've been all over this locker room and I have a feel for all the different Feng Shui positions. It's kind of nice.
AS: (To Dennis Kelly) Dennis, are you happy to have Julian here with you?
Dennis Kelly: No, I'm very upset about it. He's going to bring down the entire area.
JV: The property value just dropped since I got here.
AS: But don't you bring something extra to the table, as far as entertainment goes?
JV: If anybody in this general area has a question about like comic books or Marvel movies, video games, anime, they can come to me and I will happily give them a full explanation of whatever they need information on.
AS: Do they have to give you a tour of the building every time that you come back?
JV: I don't think that they have to but I feel like they do anyway. Maybe just because every time you leave and come back you have to do all the stuff again. Like I don't think my body comp is any different than it was a week and half ago, but they do have to check it again.
AS: Don't they just have your signature on file at this point?
JV: You would think. I'm just going to get a stamp so that whenever they need my signature it's just BOOM, done.
AS: Every time that you leave, do you delete the Eagles' number out of your phone?
JV: I delete zero numbers, some of them for vengeance purposes, some of them for future friendships and business contacts, but I think every number I've ever had going back to like elementary school I still have in my phone.
AS: Did you ever call the Eagles front desk and hang up just so that they're thinking about you?
JV: I haven't yet, but now that you've said that, if it ever happens again, that might be the next step. I'll leave vague voice mails under an alias. Yeah, I could do that.
AS: Do you think that your singing ability has anything to do with why you keep coming back?
JV: Oh, absolutely. They talk about the more you can do, you know? You want to be versatile and I think that being able to provide a form of classical vocal entertainment is just something that you don't get in a lot of locker rooms, and it's something that I think is very valuable on an NFL team where things can get a little stuffy sometimes. You just have to break out into spontaneous songs and everybody joins in. Riley has a great voice. It's almost like a musical where spontaneous singing and dancing breaks out all across the locker room. You guys don't get to see that, but it's only after you leave that it happens.
AS: Well maybe one of these days. We'll set something up.
JV: Bring a camera in here.
AS: Well welcome back again, and thanks for being a good sport.