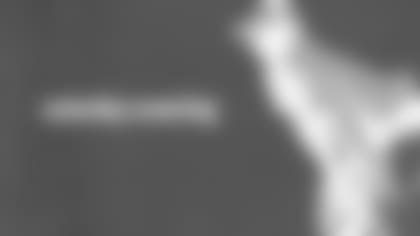 One of the first things NFL scouts do when looking at draft prospects in the spring in preparation for the NFL Draft is watch them against the best competition they faced in the previous season. How did a wide receiver fare against the best cover corner on his schedule? How did a pass rusher do when he faced a top-flight left tackle? How did a quarterback perform against the best defenses on the schedule? This fall we're going to take a look at the best head-to-head matchups in that week's slate of college football games, and give fans a preview of the top names around the country off the field in the process.
Another week of outstanding College Football action is upon us, and as always there are plenty of intriguing matchups to watch from an NFL Draft perspective. Will any of these players be feature Eagles? Every week I'll give you a taste of five key matchups to keep an eye on across the country, highlight a prospect that's getting a lot of positive buzz in the media, and profile a small-school player to keep an eye on for next year's draft. This week on the College Draft Podcast with Ross Tucker, I broke down all the best matchups from some of the top games of the week, but let's look at five more matchups that fans should keep their eyes on in this weekend's action.
Tennessee QB Josh Dobbs vs Florida Defense
Neyland Stadium, Knoxville, TN - 3:30pm - CBS
Coming into the season, there was a ton of buzz around the Tennessee Volunteers as the frontrunner to win the SEC East division, and quarterback Josh Dobbs is a big reason why. The senior leads an offense loaded with talent at the skill positions, and his combination of arm strength and athletic ability has many people fascinated in the NFL because of his upside. Inconsistent play has hurt Dobbs, however, and his draft placement in the upcoming class is still up for debate. Putting up numbers is not the biggest question for the Georgia native, as his ability to throw from inside the pocket, consistently throw with proper ball placement, and properly read defenses as a signal caller are all things teams will want to see against the toughest defenses on the schedule.
Luckily for Dobbs, he faces one of those defenses this week with the Gators. Florida, who I spotlighted in the 'Character Check' segment a couple of weeks ago, has NFL talent at all three levels of the defense. In the secondary, junior cornerbacks Jalen Tabor and Quincy Wilson catch a lot of praise. Wilson has great size at 6'1, 209 pounds while Tabor has every physical trait you want for an NFL cornerback. Linebacker Jarrad Davis reminds me a bit of former first-round pick Alec Ogletree of the Los Angeles Rams because of his size and ability to play sideline to sideline. Up front, underclassmen Caleb Brantley and CeCe Jefferson as well as senior Bryan Cox Jr all are very capable of disrupting the game up front. Dobbs will have his hands full with this defense on Saturday afternoon.
Penn State RB Saquon Barkley vs Michigan LB Jabrill Peppers
Michigan Stadium, Ann Arbor, MI - 3:30pm ET - ABC
If you're a college football fan, especially in this region, then you're likely very familiar with Penn State's Saquon Barkley. The true sophomore is not draft eligible until 2018, but through three games he has proven to be one of the most talented ball carriers in the country, averaging 5.1 yards per carry with six touchdowns. Barkley is already 223 pounds, and if his reported workout numbers are true he will be a physical freak at the Scouting Combine in Indianapolis whenever he does decide to declare for the NFL Draft. Barkley is certainly a name to watch moving forward.
I linked to Bruce Feldman's 'Freak List' piece above in reference to Barkley, who finished No. 9 on the countdown of the Top 20 'freaks' in college football. No. 10 on that list is none other than Michigan's Jabrill Peppers. Peppers has only played one full season of college football, but is draft eligible this year after gaining a medical redshirt season in 2014. Last year, his first under head coach Jim Harbaugh, Peppers did it all for the Wolverine defense. He lined up at safety, cornerback, slot corner, wide receiver, running back, wildcat quarterback, kick returner and punt returner. The dynamic athlete has made the transition to linebacker under new defensive coordinator Dom Brown, and appears to be settling into the position nicely. The big question for Peppers entering the year was how he would transition playing closer to the line of scrimmage, and this test is as big as any for the New Jersey native.
Western Kentucky WR Taywan Taylor vs Vanderbilt LB Zach Cunningham
L.T. Smith Stadium, Bowling Green, KY - 4:30pm ET - CBS Sports Network
It's not often that I would spotlight a linebacker against a wide receiver, but this is a special circumstance. First of all, these two players are the best prospects on their respective teams. Secondly, I think there are going to be some situations where they'll be matched up because of how both of them are used. Taywan Taylor may be the best receiver in the country that not many people talk about. The 5'11, 198 pound senior lines up all over the field for the Hilltoppers, and his ability to not only go up and win in contested situations but also make defenders miss in space with or without the ball make him a very intriguing option for the next level. Taylor seems like a lock to last in the league because of his physical skillset and the savvy he shows as a route runner.
Zach Cunningham burst on the scene for the Vanderbilt coaching staff a couple of years ago when he was the only defender ready to tackle Todd Gurley in a game against Georgia his redshirt freshman season. Fast forward a couple of years later, and the 6'4, 230 pounder is one of the top linebackers in the SEC and is being praised for his versatility between the lines. While he's not asked to line up in the slot all that often, with the amount Cunningham was used in zone coverage underneath, he and Taylor (who does a lot of work over the middle of the field) are bound to meet between the hashes on Saturday afternoon. When Western Kentucky has the ball, these are the two players to watch.
Arkansas TE Jeremy Sprinkle vs Texas A&M S Justin Evans
AT&T Stadium, Arlington, TX - 9:00pm ET - ESPN
This spring, Arkansas tight end Hunter Henry was the first player at his position selected when the San Diego Chargers picked him in the second round. Well, some may say that Henry wasn't even the best prospect on his own team, as Jeremy Sprinkle actually lead all SEC tight ends with six touchdown grabs a year ago. At 6'5, 262 pounds, Sprinkle is now 'the' guy for the Razorbacks, and even in a loaded tight end class he is raising eyebrows on a weekly basis in Fayetteville.
Sprinkle will almost surely be matched up on a number of plays with Texas A&M safety Justin Evans. Outside of All-American candidate Eddie Jackson from Alabama, Evans may just be the best senior safety in the country. At 6'0, 191 pounds, the junior college transfer has good size, solid range, and a physical mentality to be a downhill player in the NFL. Finishing tackles was a question mark for him a year ago, but Evans looks like the type of player built for today's game. He'll be one to watch as the season progresses on a defense that has a number of big name prospects on the depth chart.
Stanford OL Johnny Caspers vs UCLA DL Eddie Vanderdoes
Rose Bowl, Pasadena, CA - 8:00pm ET - ABC
It seems that every year the Stanford Cardinal boast at least one draft prospect along the offensive line, and this year that player is senior Johnny Caspers. At 6'3, 291 pounds, Caspers is a bit undersized, but the veteran guard has a great feel for the zone run game, plays with a chip on his shoulder, and has the ability to anchor down well to maintain the integrity of the pocket. Caspers' biggest weakness is that he's not the strongest at the point of attack in the run game, which makes this week an even bigger test than normal for him.
UCLA's Eddie Vanderdoes is an extremely fun player to watch if you love stout run defenders, and his ability to hold up in the ground game is as high as anyone's in the country. Vanderdoes is a smart player that knows how to use his hands and is able to win with both power and technique. He'll be a great matchup for Caspers because his strength will challenge Caspers' weakness.
Our good friend Tony Pauline spotlighted Virginia Tech cornerback Brandon Facyson this week, and for good reason. The 6'2, 184-pound defensive back has great length for the position, which allows him to make up for his lack of pure speed in the open field. In zone coverage, Facyson displays very good awareness and the ability to break on routes in front of him. A strong run defender and sound tackler in the run game, Facyson best projects to a press scheme moving forward, and is a very intriguing player in a loaded cornerback class.
I've mentioned before how the tight end class in the upcoming NFL Draft has a chance to be spectacular, not just in terms of the talent at the top, but also because of it's depth. Players like South Alabama's Gerald Everett are a reason why that's the case. At 6'3, 237 pounds, Everett doesn't have prototypical size, but the more I watched him, the more I liked him. He's a pretty good athlete that can get down the seam to make plays in the passing game, and he's fun to watch with the ball in his hands. If he can improve as a route runner and get stronger at the point of attack as a blocker, I believe Everett has a chance at a Top 100 selection, even in this loaded class.
With all of the buzz around Carson Wentz and his early success, it was only fitting to see the North Dakota State Bison go on the road and knock off another FBS team last week. This wasn't just a win over a conference cellar-dweller like Kansas or Iowa State, though, because they went to Iowa City and beat a Top 15 program in Kirk Ferentz's Iowa squad last week for perhaps the biggest regular-season win in school history. It was a great win for the Bison, but there's still a lot to like about this Hawkeyes team, a squad with several really intriguing NFL prospects. I caught up with Marc Morehouse from the Cedar Rapids Gazette, who is as tied in as anyone that covers this Iowa program, to learn more about those prospects away from the field.
CB Desmond King - "(King) jumped in at corner in the first game of his true freshman year and has started every game since. He's admitted that he was over his head and had no clue what he was doing. Still, he had the talent to hold up. Going into his sophomore year, he started to put in time on his football IQ. That really bloomed last season. He reads keys and positions himself well in run and pass. When Iowa runs nickel, he's the nickel corner. It's a skill he wants/needs to show the NFL. He took it upon himself to grow his football knowledge. That with pretty great body control (can really track a ball at full speed; can't remember his last PI or hold) and ball skills make him a sensational player. Personally, he lost a brother to a shooting during his high school senior year. Mature, strong sense of self, tight family." - Morehouse
King is an outstanding football player. He's undersized, but his instincts, competitiveness, athleticism and ball skills make him one of the top defenders in the entire country. It's notable that King, who was suspended for the first quarter of a game last year after being late for a team meeting, was actually demoted from his role as a team captain this past week. The players on the roster vote for the captains, and King was moved out of his captainship after the loss to the Bison last week. Could be nothing, or it could be something we'll hear more about in the coming months.
QB CJ Beathard - "The way he saw the game probably cost him at least a year as Iowa's starter. He's had the tools from day 1 -- strong arm, excellent accuracy, good feet -- but he couldn't jump Jake Rudock and so he spent his redshirt freshman and sophomore seasons behind Rudock. Usually this is where the No. 2 quarterback transfers. And that did almost happen, but Beathard gunned it and made the IQ strides he needed to make. Rudock was just ending his second season and Iowa coaches decided that December to re-open the starting quarterback competition . . . in December. Beathard played the majority of the TaxSlayer Bowl and was named the starter in January (of 2015). Kirk Ferentz doesn't make these decisions lightly. Beathard took root as a leader and was named captain for what went on to be a 12-2 season. He's really glued into the players. Several of his teammates have been to his hometown (near Nashville) for visits. He gives teammates crap and they give it back. Very positive presence in practice. Last year, Beathard battled a torn groin and needed sports hernia surgery in the offseason. He began this season with a sprained knee. He has the physical skills and the football IQ to have a career." - Morehouse
Coming into the season, Beathard was my favorite in a lackluster senior quarterback class. He's got a good arm and pretty light feet, but I want to see him throw with better accuracy, more anticipation, and more consistent poise in the pocket. I think he's got NFL tools and I would say he is likely a mid-round pick next spring.
DT Jaleel Johnson - "Kirk Ferentz said on his radio show last week that Johnson hated school for a long time when he got here. He's over that and will graduate in December. Living in Iowa for this kid has had to have been a bit of a cultural kick in the head. He grew up in New York and moved to Chicago for his senior year of football. He went through an intense recruiting battle between Iowa and Michigan State. It didn't happen for him right away, but beginning last season, after finally assuming front row status (he played rotation for a few years behind the Ravens Carl Davis), he's been Iowa's best run stuffer and has changed opponent's game plans. Going off of my limited view, he's really grown socially off the field during his time in Iowa City." - Morehouse
Johnson was a high school wrestler, and has really come on in the last 18 months in terms of his draft buzz. He was named to the Senior Bowl Watch List (as both Beathard and King were) this past August, and in a defensive tackle group that figures to not be as strong as last year's star-studded class, he could make a name for himself down in Mobile.