Asante Samuel is an interesting guy. In the locker room, he doesn't have the "Look at me!" attitude. He's a good interview, but actually getting one with him is tough; usually, he'd rather play dominoes. He's a playmaking cornerback without the exaggerated persona, almost an oxymoron in today's NFL in which receivers and corners go to war not only for the football, but for the biggest mouths and the best soundbytes.
On the self-invoked 90 percent of days that Samuel doesn't talk to the media, he prefers to point to his statistics, a veritable publicist in and of themselves - he made the Pro Bowl for the second straight season, although he will not play due to the hip injury he battled in the postseason. His 21 knockdowns in 2008 was the second-most by an Eagle since 1999. Since 2006, only Ed Reed of the Ravens has more interceptions (21-20). He had two interceptions in the playoffs, one of which was returned 44 yards for a touchdown to set a new league postseason record for most in a career with four. He thinks those numbers do enough talking. And if that's not enough, he'll proudly tout his goals when he does talk. Samuel wants to be the best cornerback to ever play football, and he's said it multiple times. He's not just saying it to get on TV or in print - he believes it.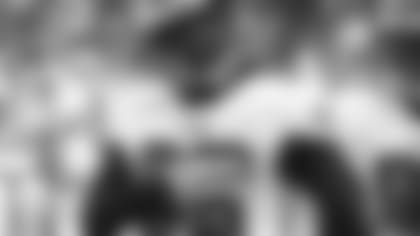 Samuel stepped up his play in the playoffs with two picks and a touchdown
Samuel signed a monster six-year deal with the Eagles last February, but that was just another notch on the timeline. Like many of his teammates in New England, he was said to be a major beneficiary of head coach Bill Belichick's system. And could someone with those lofty expectations be shrouded with a "system cornerback" label?
So, he got away. He came to Philadelphia to prove things to others, things he knows about himself already.
"Asante Samuel is a loving, caring family man that wants to see everybody succeed and everybody do good," Samuel said. "That's what I'm all about. I'm not a selfish guy; I believe in 'Treat people right and you'll get your blessings.'"
That's a funny notion coming from Samuel, who had victimized the Eagles with his ball skills in the past. His two interceptions spoiled the Eagles' upset bid of the undefeated Patriots in 2007, and he started on the winning side in Super Bowl XXXIX. But for as much as Samuel haunted them, Eagles coaches saw somebody they had to have.
Samuel, knowing interest was everywhere and his price tag was high, narrowed things down for himself before he hit the market. Fortunately for Philadelphia, it was one of the cities Samuel circled on his list. So the Eagles signed Samuel about as early as they possibly could have, procuring the market's top free agent and creating one of the NFL's most lethal cornerback units.
"Picking the Philadelphia Eagles was very important to me, because they're known as being a winner, and have done so for a very long time," Samuel said. "Jim (Johnson) is an aggressive defensive coordinator. It's a good situation for me."
On top of Johnson's system, Samuel enters quite an unfamiliar situation as well. After spending years dominating the AFC East with the Patriots, he's now part of a division with storied, vitriolic rivalries. Two games a year with each of three different teams, all with a variety of reasons to strongly dislike one another. The challenge of shutting down a No. 1 caliber receiver exists in every game. The NFC East boasts 11 Super Bowl championships, and more importantly what could quite literally be four current Super Bowl contenders every year.
Samuel threw himself into the fire. It's not easy money in this division.
"In New England, our major rival was Indianapolis, and we usually only played them once a year, if that," Samuel said. "This division, we have a bunch of hard, knock-down, drag-out games that we didn't have there."
Those rivalries will only get heated in 2009. The Eagles eliminated the Cowboys and the Giants from the playoffs and the Redskins were the only division rival to have the Eagles' number this past season.
So expect Samuel to cherish each interception he gets in Philadelphia. He tries to keep every ball to tell his four kids the story behind it. He'll make different types of picks. In fact, his first two as an Eagle were as opposite as can be. One was a right-place, right-time gimme, the other was a leaping battle for the ball with a receiver. But if it gives the offense the ball back — or better, if Samuel does the work himself — he'll take it.
Samuel's definitely confident. He's a regular in the film room, and he knows the receivers he matches up against. He wants quarterbacks to throw his way, stupid decision or not. He lets his closing speed do the work. And he'll tell you he doesn't think he can play receiver, like most corners, he knows he can ("But I won't go across the middle," joked Samuel).
He wants to bring Philadelphia its longawaited Super Bowl. He came just two wins short this season. And along the way he wants to put his fingerprints all over the trophy.
"At the end of the day, if I don't think I was the best in my eyes, it's a disappointment," Samuel said. "But if I can look at my stats and know I'm productive, and doing better than everyone else, I'll be happy."