FOXBOROUGH, MA -- Cornerback Asante Samuel arrived at Gillette Stadium. The same way he did for the first five years of his NFL career.
Only this time, he wasn't a member of the Patriots. He donned the uniform of the Philadelphia Eagles.
And much like he did during those five years in New England, he walked off the field victorious as the Eagles knocked off the Patriots 27-17 on Friday night. Samuel wasted no time making himself at home again. The Patriots' first offensive play was a reverse to wide receiver Randy Moss. Samuel quickly sniffed out the play and hauled him to the ground for a loss of five yards.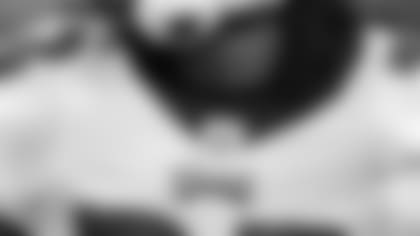 CB Asante Samuel
"It was a little fun," said Samuel of the play. "I get to call him and have something to joke about with him a little bit and say how I tackled him for a loss on the reverse. He didn't have any moves for me, so I wanted to mess with him a little bit."
Instead of receiving cheers, jeers cascaded from the crowd. Instead of feeling insulted, Samuel reveled in how the fans will miss his game-changing plays.
"They miss me, but I'm not with them so they hate me," said Samuel.
A fourth-round pick of the Patriots in 2003, Samuel was a part of three AFC title teams and two Super Bowl champion squads in New England. A Pro Bowl selection in 2007, Samuel has the most interceptions of any NFL player over the past two years with 16. However, after Samuel notched 10 interceptions in 2006, he didn't feel like he got the respect he deserved from the organization in terms of a new contract. He played under the franchise tag last year, only after the Patriots promised not to slap it on him again in 2008. On the day he became a free agent, the Eagles snatched him up with a lucrative six-year deal.
"It's done and over with. Everybody knows the situation about the Patriots and how they handle their business, keeping their players there," said Samuel. "So, there's nothing to talk about. I'm not a guy who is going to keep a controversy going. Life goes on."
Although he got the chance to reunite with old friends, he didn't get to compete against his former quarterback - Tom Brady, who was held out of Friday night's game.
"It was kind of disappointing," said Samuel. "I always told him that I can't wait to play against him. Unfortunately, we didn't get to see each other. It was all good."
In his preseason debut against Carolina, Samuel played a total of six snaps. He got a lot more work in on Friday and finished with a total of two tackles. Samuel understands that it's only the preseason, but with two weeks to go until the season opener against St. Louis - he is happy with how his new teammates are performing.
"I think we did pretty good. Obviously, we have a lot of work to do and obviously the Patriots didn't prepare, being there for five years, I know (they) don't prepare for preseason games," Samuel said. "The real test doesn't come until the first game of the season, so you have to wait."