February 4, 2018 was a special day for Eagles fans all over the world, but the day held even more meaning for Andrew Hollins.
Andrew was a member of the Marine Corps serving at Quantico Station in Virginia at the time, but desperately wanted to be in Minneapolis to see the Eagles take on the New England Patriots in Super Bowl LII.
Hollins wasn't merely a fan of the team. He had a personal stake in the game, as his brother, Mack, was suiting up in arguably the biggest sporting event on the planet. Watching this on television was not enough for Andrew. He had to see this in person, even if that meant getting in a little bit of trouble with his superiors.
Fortunately for Andrew, the workload was light that weekend and he was able to make the trek to Minnesota and witness his brother help the Eagles win the franchise's first Super Bowl title without consequence.
Throughout their lives, Andrew has been supportive of his older brother. When Mack walked on to the University of North Carolina's football team, Andrew, who was stationed in North Carolina at the time, was a fixture at games cheering on his brother.
Just the sheer sight of the Hollins name on the back of a Tar Heels jersey meant the world to Andrew. When Mack was selected in the fourth round of the 2017 NFL Draft, it was a surreal moment for Andrew.
This month, Mack, along with the rest of the NFL, get to return to favor through the Salute to Service initiative.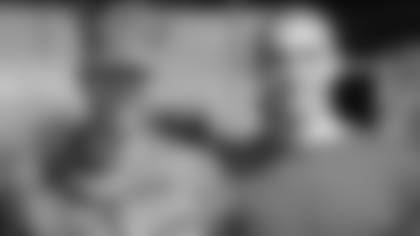 As much as it means to Andrew to have supported his brother throughout the years, it means even more to Mack to honor his younger brother – and every other veteran who has served our country.
"Anytime we have our Hometown Hero, I think that's super important that we do that type of stuff because you don't realize how many people sacrifice," Mack said. "I mean, we've had Hometown Heroes that aren't with us (at the stadium). Their family has to go and be there, which is upsetting, but that's the reality of the military and the people that protect our freedoms."
Andrew and Mack have always had a close relationship. They'd play sports and video games for hours on end. And as is usually the case with brothers, there were some physical scuffles. More often than not, Andrew, the youngest of three boys (Mack is the middle child), would come out on the short end of those skirmishes, but contends that times have changed.
"I've been hitting the gym lately, so I've been getting pretty big on them," Andrew said. "The roles are changing."
But while Mack had dreams of going to college and entering the NFL, Andrew decided during his senior year of high school that school wasn't something he saw himself being occupied with for another four years.
After talking to some recruiters, he decided to join the Marine Corps, mostly because it presented the biggest challenge.
The challenge would have been greater had Andrew been stationed somewhere far from Rockville, Maryland, where the Hollins family resides. However, he was stationed not too far away in Virginia.
When Mack attended North Carolina, Andrew was merely an hour away from campus.
"He would come up all the time, so it was kind of like he was home away from home," Mack recalled.
"It's kind of weird because there were times when he could come home if they get leave or something like that, but it's weird when he's 45 minutes away but it's not like I can pop up on the base and be like, 'Hey, you trying to hang out?' He has to get it approved by four or five people above him before he can really do anything," he added. "It was definitely good for him."
But for seven months in 2016, Andrew was stationed on a ship on the Mediterranean Sea, which posed its own set of obstacles.
"It was something that was hard to do, but it was definitely something that built my character," Andrew said.
It was challenging for Mack, too, as he hoped for his brother's safe return to American soil.
"I think the football mindset kind of helped me with that where if you think you're going to get injured, you're going to get injured. If I sit there and think something might happen to him, something might happen to him," Mack said.
"You can't say you completely don't think nothing is going to happen to somebody in the military," he added. "Anything could happen at a base, you know. You hear stories about that all the time. Yeah, in the back of my mind, it's like something could happen to him. We might get a phone call. Mom and dad might call me because somebody called them or showed up at the door, which I guess is the risk that he was willing to take, like all military personnel."
It is because of that risk that makes Salute to Service even more meaningful. Andrew got to salute his brother for winning a game nine months ago, but Mack and the NFL are using this month to salute Andrew and every other member of the military right back.
"Not only are they doing their thing on the football field, but at the same time they're taking the spotlight away from them and giving it to the service members and that alone is just something that's so cool for us to see," Andrew said.