There is a lot of "wow" in LeSean McCoy's game, as proven by his big runs and cutbacks and the ability he has repeatedly shown to make something out of nothing. He's averaged 4.6 yards per carry behind and offensive line that for three seasons has constantly been thrown out of whack by injuries and promotions and demotions and additions and subtractions to the lineup.
What could McCoy do, the mind wonders, running behind a healthy offensive line that has some all-important continuity and that has a boost in talent from the draft and that has a coach who is in concert with the offensive coordinator and the head coach putting all of the X's and O's in place?
We're going to find out in 2013.
"The Eagles should have a powerful running game if that offensive line is as good as I think it's going to be," said NFL Network analyst Brian Baldinger. "You look at what they've done running the ball with a line that had so many injuries and players in and out of the lineup and then factor in the return of Jason Peters and Todd Herremans and Jason Kelce. You're better right now. Then you add Lane Johnson in the draft and there's a lot to work with up front.
"Chip Kelly and Pat Shurmur are going to have fun with this running game."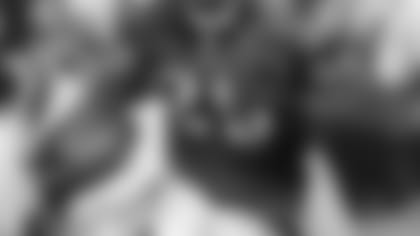 The talk about the Eagles offense generally revolves around the quarterback position and who will command the most important spot on the field, and that's understandable. We all want to know whether Michael Vick or Nick Foles or one of the other three quarterbacks on the roster will win the job.
In the meantime, though, the Eagles know they have the running game as the base of the offense. The running game is the building block of the scheme, however it is constructed.
And with McCoy and Bryce Brown and Chris Polk and some rookie free agents in to compete for roster spots, the Eagles are in just about as good of a situation as any team could ask for in May. They are, in football chatter, loaded at running back.
The key, of course, is having McCoy healthy and busy and making sure that line coach Jeff Stoutland has his group working in concert. There is certainly nothing set in stone up front, but the Eagles are as stable there as they've been in some time, with Johnson's arrival the powerful X-factor that could push this group to the upper echelon of the league.
If Johnson steps in early in his career as the right tackle, as many have suggested will happen, then Todd Herremans and Evan Mathis can play inside at the guard spots -- there is nothing official about that, by the way, just speculation -- and Peters would play left tackle and Kelce would return to center.
It's an impressive starting group, on paper, and the Eagles anticipate that Danny Watkins and Dennis Kelly and even Dallas Reynolds -- three young players with starting experience -- will at the very least provide outstanding depth.
So if the offensive line is up to par, the Eagles will lean on McCoy and Brown to energize a running game that during the Andy Reid era was often a second option in the West Coast offense. That isn't the case any longer.
The running game shall lead the way.
"Chip Kelly is smart enough to know that you play to your strengths," said ESPN analyst Ron Jaworski, "and the running game is a strength for this football game. No matter how he does it, Skip is going to make sure that his playmakers have the football in their hands. McCoy and Brown are playmakers. They will get their touches."
And an offense long known for finesse and throwing the football around will soon, very soon, have a new identity that could very well start with a running game that looks as complete as the Eagles have enjoyed in a long, long time.